---
Widening the Space of Opportunities for Adolescent Girls
---
3 minute read
Peace is knowing that which will sustain you. Peace is a place you can return to over and over when it seems the well has run dry. Peace and power are not typically two words paired together for their similarity, yet I would argue that they are completely bound together.
One cannot fully realize the depths of one's power without intimately knowing where and how to find peace. That is why I intentionally began my project, La Heroína de Mi Vida Propia (Heroine of My Own Life) at the Mariposa DR Foundation in the Dominican Republic with trauma stewardship, a quest for healing and peace, before moving onto leadership development, an affirmation and practice of using one's power and voice.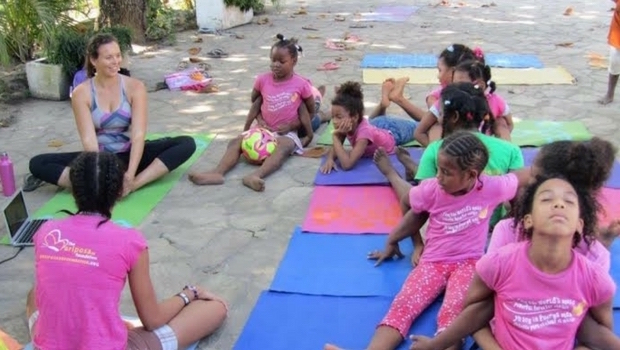 I believe this work is contributing to peace in the world by widening the space of opportunities for adolescent girls of the Mariposa DR Foundation. In the short-term, this enables them to envision a different future for themselves. In the long-term, as they draw strength from the force they know resides within them and the peace of knowing that they have the resilience to face whatever comes before them, they will be empowered to create lasting change in their communities and in the world.
In my study of and work with adolescent girls (inside and outside of the United States) I have seen that, to varying degrees around the world, girls are taught that their voice, contributions and power are less than that of their male peers. This manifests in a multitude of ways, ranging from the denial of equal education and low-meaning, low-wage work to gender-based violence. Girls are told to stay small, stay quiet and absorb the shock of the world's problems. Whether the internalization of this message reveals itself in a girl's life as anorexia in Charlottesville, VA or child marriage in Cabarete, Dominican Republic, she is still faced with a life-threatening situation.
Through my project I have seen that girls, as all individuals across the globe, lead complex and diverse lives. They are neither singularly victims of the battering array of tragedies inflicted upon them nor are they the apolitical heroines we've been waiting for to alleviate global warming, extinguish AIDS and end poverty. They are deeply resilient survivors, capable of transformation. They are brilliant minds bursting with innovation and they have powerful voices.
We are right to render them visible, and I believe that doing so is another form of peace work, as an adolescent girl with a voice and a will to make a difference very well may be what sustains us as a global community.
There is no universal girlhood, but there is a systematic devaluation and degradation of the lives of girls worldwide that demands serious attention. My work with Mariposa has fervently affirmed to me that if more girls have the freedom to expand and grow fully into their potential, then they can be the world's most powerful force for change and peace.
Liberation is the widening of space of possibilities. It is allowing a girl to see that her life can take other forms than she might have imagined. Girls must know that they are worthy of having the life they choose and are powerful enough to overcome all. I hope that my peace will always work towards the goal of dismantling all that may limit a girl's power.
By Anna Cait
Anna volunteered in the Dominican Republic with the help of a Christianson Fellowship, from the InterExchange Foundation.