---
Expanding Access to Capital in the Middle East
---
6 minute read
It is hard to believe that I had once nearly turned down the Kiva Fellowship. It was a bitterly cold Brooklyn night, and I was standing in an apartment explaining my predicament to a friend: Kiva, the microfinance organization, had accepted me into its Fellowship program and wanted to send me to Palestine and Lebanon to expand its microlending operations over there. The rub was that I had just settled into a rewarding job in New York; whereas in New York I had friends and a paycheck, in the Middle East I would arrive with neither. Kiva Fellows are unpaid, and I was to be the organization's only representative in the region.
"Go," my friend said. "You won't regret it."
I went, and I haven't looked back since.
A Window Into Palestininan and Lebanese Communities
Volunteering with Kiva as a Fellow gave me the opportunity to integrate more deeply in a foreign culture than I had ever imagined before. I operated out of the offices of local microfinance institutions, whose employees constituted a cross-section of Palestinian and Lebanese societies. Some of my colleagues had attended universities or had previous working abroad experiences. Others still lived in the refugee camps in which their parents were raised. On the days that I traveled to meet borrowers, I was invited warmly into their businesses or homes and told of their families, their successes, and their struggles.
Mahmoud is a borrower from Qarawat, near Ramallah, whom I visited to assess the impact of a microloan that he took out to open an internet café in his village. Mahmoud impressed me – apart from undertaking this project and completing his university studies, he also works part-time in his brother's woodshop – and I was grateful that he provided me with an window into his life as a twenty-something living in very different circumstances than those I was used to.
But I really hit the jackpot when Mahmoud introduced me to his Uncle Sabra, who was something of a village elder. Sabra introduced me to many Qarawat families, and each would equally boast about their sons' and daughters' successes and lament their losses - some of which were material and some deeply personal. No doubt, there was an element of advocacy behind this tour – I was to notice the endurance of Palestinians who live under hardship and occupation, to wonder what recourse the village might have to regain access to a spring seized by a nearby settlement, and to pity the family that lost its son to the blunt-force impact of an Israeli tear-gas canister. But the village showed me the generosity of its customs, as well.
Knowing that I had no family to spend my Friday afternoons with in Palestine, Sabra invited me to a memorable barbecue with his family. I was expecting that we would chow down in Qarawat, but instead we drove into the mountains in an old SUV packed with food and charcoal. Sufficiently isolated that we could see no settlements, we picked a shady olive tree to camp under, lit the charcoal, and grilled until the early evening. It brought back memories of outings with my family and friends in the United States. I felt near to home and far away at the same time.
Volunteering Through a Kiva Fellowship
So, what is Kiva, and what exactly did I do as a volunteer for them? Kiva is an American non-profit microfinance organization that aims to expand the reach of microcredit globally by providing interest-free capital to local microfinance institutions. Microfinance institutions tend to run on very thin profit margins, so by providing them with interest-free capital, Kiva helps them reduce their operating costs and, importantly, invest in expanding their operations and supporting borrowers that will make a positive social impact in their communities.
The Kiva lending model is simple, and it relies on community participation (read: that means you!). Kiva's one hundred and fifty microfinance partners post stories of their borrowers' projects on Kiva's website, and members of Kiva's global community of 700,000 lenders pledge to fund small increments, usually $25, of the loans that appeal to them most. When the full amount of the principal of the loan has been pledged, Kiva forwards the amount from the committed lenders to the partner institution that provided the loan to the borrower. As the borrower completes his/her repayments, Kiva lenders receive the return of the principal amount, the partner institution receives the interest on the loan, and Kiva as an organization takes nothing. Through this network of four – the lenders, Kiva, the partner institution, and the borrower – borrowers maintain the important and personal connection that they have with their local microfinance institution, while lenders provide interest-free capital to the institution to make this loan and others like it possible.
Over the past eight months, I have had the pleasure of volunteering as a Kiva Fellow with Kiva's partners in Palestine and Lebanon (FATEN, Ryada, Ameen, and Al Majmoua). Fellows are an essential component of the relationship between Kiva and its partners: We are Kiva's representatives in the field. I verified that borrowers' rights were being protected and that Kiva lenders were receiving accurate information about their loans. I interviewed dozens of borrowers and field staffers to see how Kiva could adapt its general policies to suit the social and legal norms of the Middle East. I trained tens of new loan officers on how to disburse Kiva loans. And I filmed borrowers speaking about their loans to encourage further lending to the Middle East.
They put up with my broken Arabic and were patient with my incessant questions about the Occupation. They taught me technical, finance-related Arabic for speaking with borrowers and street-slang for speaking with friends.
My time as a Kiva Fellow was stimulating and rewarding. It is the first time that I'd spent time in Palestine, and I was thankful to have spent it with the warm and welcoming staff of Kiva's partners. They put up with my broken Arabic and were patient with my incessant questions about the Occupation. They taught me technical, finance-related Arabic for speaking with borrowers and street-slang for speaking with friends. The branch staff, from Jenin to Hebron, made me feel like a guest wherever I went - they stuffed me with liver in Tulkarem, knafe in Nablus, falafel in Bethlehem, and m'tabal in Hebron. I am indebted to the field staff for introducing me to borrowers and for explaining to me the realities and quirks of microfinance in the Arab World.
A final responsibility of mine as a Kiva Fellow was to write about microfinance in the context of my placements for an external audience. It is a fundamental principle of Kiva to connect lenders with borrowers and to give lenders a sense of the community that they are supporting. Through my articles on Kiva's blog, I hope that I gave lenders a sense of the microfinance industry in Palestine – how it differs from microfinance in other countries, how it engages in women's empowerment, how productive activity occurs within the confines of the occupation of the West Bank, and how the Middle East is nevertheless an excellent place to lend.
Now at the end of my Fellowship, I take comfort in knowing that the microfinance sector in Palestine and Lebanon is strong and socially productive. Every day, I saw that managers, staffers, and loan officers were working to improve the welfare of underserved families and entrepreneurs.
I owe an huge debt of gratitude to the InterExchange Foundation for awarding me the Christianson Fellowship. The grant paid for my living expenses and for my travel throughout the West Bank and Lebanon. The Kiva Fellowship really is unpaid – they do not even cover travel expenses to visit branch offices – and it was the grant that allowed me to visit the most distant borrowers in Palestine and Lebanon. Microfinance is about lending to the hardest-to-reach borrowers, and the Christianson Fellowship made this possible.
To anybody who has an opportunity to volunteer or work abroad for a meaningful cause in a developing country, my recommendation is this: Go. Apply for grants. You'll find a way to make ends meet. You won't regret it.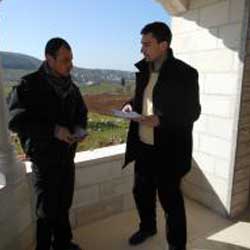 By Philip I.
Philip volunteered in West Bank, Palestinian Territories with the help of a Christianson Fellowship, from the InterExchange Foundation.