---
Improving Maternal Health Internationally
---
6 minute read
A Year of Travel and Impact
The year 2013 will be permanently ingrained in my heart as the year of adventure, change, challenges, and most importantly, growth. I started that year with a tentative outline of activities, but as I closed out the year, I now see the elaborate web of experiences that wove through 2013. First and foremost, however, this year would not have been possible without the assistance of the InterExchange Foundation Christianson Fellowship, which provided me financial support to live and learn from midwives from across the globe, getting an intimate perspective of life through pregnancy and childbirth.
I was awarded the Christianson Fellowship in 2012 to fund my volunteer experience with Midwife International (MI) from February to December 2013. Midwife International, based out of Boulder, CO, places midwifery students in partner clinics abroad as a way to create a cadre of globally-minded midwives for the future and to assist local clinics to improve maternal care for their communities. The one-year international program combines community service work and leadership skills with international midwifery training. Students are placed at partner sites based on evolving needs. My original assignment was three months with MI's partner in Uganda and eight months in Kenya. As the year proceeded, needs and organizational structures changed and I was shifted to other sites.
From February to June 2013, I worked in Attiak, Uganda, at an independent birth center in the northern part of the country, 35 kilometers from the South Sudan border. During my time at this site I helped to reorganize the clinic by cleaning out and stocking the pharmacy, writing protocols and procedures, and identifying ways to ensure the clinic met requirements for universal code. My daily schedule consisted of prenatal appointments, midwifery meetings and workshops with the preceptor, and attending births. Each month the clinic held a training for traditional birth attendants in the community. Each student was assigned a topic and prepared a presentation to teach. My topic was focused on common complaints in pregnancy.
From July to August 2013, I moved to Cambodia, where we partnered with two government clinics in the rural villages surrounding Takeo. Outside of births and prenatal care, Women's Health Cambodia, our partner organization, focused its efforts on a postpartum follow-up program in the village. Every day we traveled by tuk-tuk to visit each woman, whom we saw three times during the 40-day postpartum period. I performed an exam on both the mother and baby as well as organizing our charting system for this program to ensure our supplies were well-stocked. A major achievement during my time in Cambodia was beginning a needs assessment on both clinics using the "International MotherBaby Childbirth Initiative 10 Steps" to look into how each clinic can improve its services for women in the community.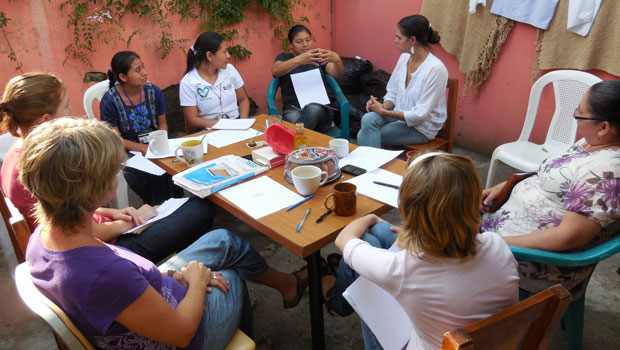 I ended my year in Ciudad Vieja, Guatemala, working with the Asociacion Manos Abiertas (AMA), an independent women's clinic focused on providing natural birth alternatives for Guatemalan women. From September to December 2013, I participated in several trainings with the clinic staff and indigenous midwifery students on the use of herbs in pregnancy and childbirth, Mayan massage, robozo techniques and procedures for Pap smears. The clinic director and sole midwife was extremely over-worked, so my major contribution included assisting in appointments and supporting women and families through labor and birth. Each month AMA conducted a health outreach at local plantations for cervical cancer screening. I assisted at two of these outreaches, packing supplies and assisting the nurse to perform each screening.
In addition to clinic responsibilities, MI provided each student with a reading outline that included studies on cultural competency, leadership, and maternal health in a global context. I submitted quarterly papers on given topics, as well as site reflections. In addition, students were tasked with researching and conducting needs assessments on sustainable projects for future volunteer involvement.
Honing Skills and Understanding Cultures
As a prospective international midwife, the Christianson Fellowship gave me the opportunity to gain a deeper understanding of the current state of maternal health around the world, as well as how I can impact this field in the future. Currently there are very limited options for learning international midwifery. This opportunity helped me connect my many experiences of birth and maternal health into one. Leading up to my one-year immersion with MI I had experienced birth in both Kenya and the U.S. I was looking for a platform to meet and connect with other global leaders in midwifery and to see different models of care, as well as the successes and challenges they face. During this year, I have gotten the opportunity to work with a variety of midwives - American certified professional midwives, midwives from Italy, Germany, and Belgium, Ugandan traditional midwives, government-trained Cambodian midwives, and a Guatemalan midwife. Each of these women had her own style and her own way of relating to and assisting women in pregnancy and birth. Not only have I learned that there are many different ways of practicing midwifery but this experience has given me the chance to adapt the styles I have seen and apply it to my own philosophy of care for the future.
I also feel better equipped with a broader range of knowledge and skills to return to the rural community in which I continue to serve in Kenya. Having this experience has taught me to be resourceful with my knowledge and capabilities in a completely new and different way. For example, not being able to communicate in the same language with clients pushed me to learn how to communicate with women in so many other ways than with words. I have discovered how to communicate with my hands, eye,s and energy, which is a vital asset for a midwife.
Throughout the world, many clinics and communities lack adequate or reliable resources and medications for pregnancy and birth. Getting the opportunity to train in several different communities abroad has exposed me to the unsafe realities of birth around the world. When training at an international site, I learned to make decisions based solely on the woman and her individual situation. Without having the rules and regulations of midwifery in the U.S., I had the opportunity to see decisions being made that were in favor of the woman and that took into consideration her life context, even if it meant letting her labor five more hours instead of transferring her to a hospital that mistreated her because of her ethnic group and which she could not afford to pay for. I have learned how to begin to balance the fine line between accepting a community's practices and calling out those practices that are harmful or disrespectful to women and their babies. It is a hard line. If we want to improve the rights and health of women in this world, then we, as international midwives, must learn how to understand deep-rooted cultural beliefs, norms, and realities in order to interpret the realities of women and their families. It is not easy. And it is not easy to know when to step in and when to step out.
Lastly, I could not be more grateful for the Christianson Fellowship for giving me the chance to apply my interests and skills to experience the lives of other people in this world. What better way to learn about one community, culture, or tradition than through birth, women, and babies? I can't think of anything better. Here you get the good and bad, magical and unexpected, and the overall truth–all in one. The Christianson Fellowship made this possible. I thank everyone involved for supporting me to find this reality. I have grown as an individual, student, prospective midwife, friend, and a global advocate.
By Kelsi H.
Kelsi volunteered in Uganda, Cambodia, and Guatemala with the help of a Christianson Fellowship, from the InterExchange Foundation.