---
Sevilla Brims with Life at the Feria de Abril
---
2 minute read
Sevilla: An Incredible Destination
Sevilla is a beautiful city in the Andalusian region of Spain, decorated by large flowers, elaborate buildings, and palm trees. It is so hot that many women carry fans with them and restaurants with outdoor seating have automatic water mist dispensers that spray diners from above. Its cobblestone streets are so winding and narrow that our taxi had to drop us off down the road from where we were staying.
Feria De Abril: Sevilla's Wild Week
Every year, two weeks after Easter, the people of Sevilla hold their annual weeklong April fair, called the Feria de Abril. The fair's origins can be traced back to 1847, when it was organized as a livestock fair. During the feria, Sevillan women wear a traditional dress of brightly colored fabric that is tight around the waist and hips with many ruffles on the sleeves and around the legs. The men wear tight, short jackets, brimmed hats, and trousers. Sevillians rent private tents, or casetas, that are situated within the feria. Each caseta is like its own party where the fairgoers drink sherry, eat tapas, and dance flamenco.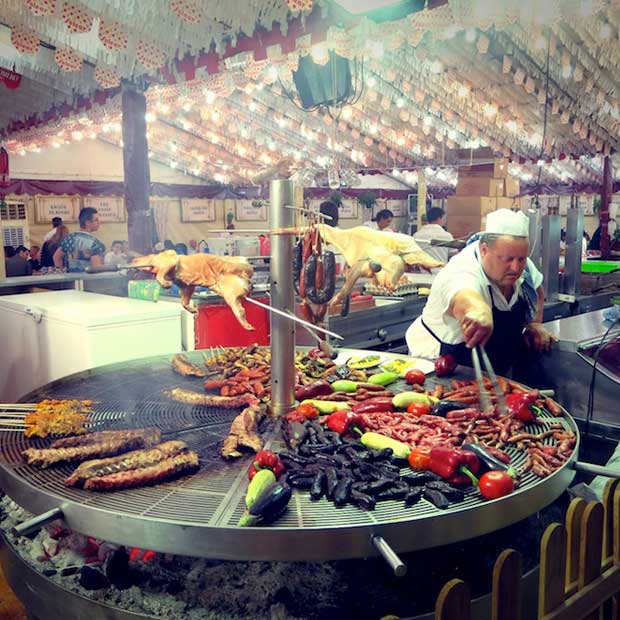 There are also public casetas available for non-Sevillians, which is where my friends and I drank sherry and attempted to dance flamenco. The feria is spectacular during the day! We loved the multi-patterned dresses, and we watched families riding in horse-drawn carriages and dancing non-stop flamenco.
At night, the massive entrance to the fair is lit up in bright yellow. Red lanterns are stretched across the pathways. Two enormous glowing Ferris wheels tower over everything. It is a glamorous display of Sevillian culture, where everyone gets a chance to show off!
So Much to See in Sevilla!
While in Sevilla, we also spent time in Plaza España, toured the Royal Alcazar, and walked along the Guadalquivir River. We saw a fantastic flamenco concert at the Flamenco Museum. The performance was so intense that it gave me chills! The dancers followed the rhythm of the guitar from their fingertips to their stomping feet. For our last evening, we climbed to the top of the Metropol Parasol, the world's largest wooden structure, and watched the sun set over Sevilla.
If you are traveling through Spain, Sevilla is a must-visit!
By Eliza
Eliza is a Working Abroad Grant recipient participating in the English Conversation Coach Spain program.