---
Working With Asylum Seekers in Cyprus
---
10 minute read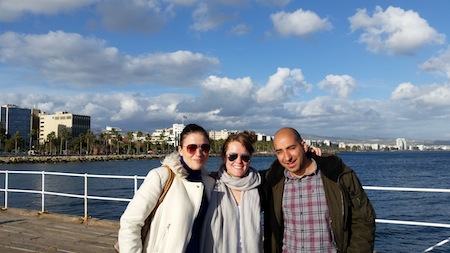 Things are moving along here in Cyprus at work. For those of you unfamiliar with the refugee/asylum-seeker process, I'll give you a little background. When someone arrives in Cyprus, she or he needs to claim asylum here or somehow live illegally. Those who claim asylum here are often caught in a slow-moving system that could take years to hear a yes or no. If the client is rejected, they may work with a lawyer to prepare an appeal, and this process takes even more time.
Those clients who applied for asylum, and theoretically intend on having a legal future in Cyprus, are held at a reception centre called Kofinou Reception Centre, about a 40-minute drive from Nicosia. It houses about 115 men, women and families from all over the world (but majority Syrian and Palestinian) who have applied for asylum. This place, run by the Asylum Service of Cyprus, is very isolated from the rest of the country and nearby cities, although it is located in a beautiful area in the mountains. Each small temporary "house" sleeps eight people. There is very little privacy. There are communal showers and recreation rooms, and daily food is distributed from one of the main buildings.
From my organization, Future Worlds Center (FWC), lawyers go out there once every other week, and psychologists go out there once per week for individual client therapy. Depending on how long their application/appeal process takes, clients could be living there from three months to three years. The waiting period really gets to them mentally, and the isolation from the rest of the world can foster negative feelings. Along with feeling that the government/nongovernmental orgs aren't helping them with the UN money to the country that is designed to address these issues, they feel a general disconnect from the rest of society. One bus route runs there infrequently throughout the day, but many cannot afford the bus pass, and transportation is only covered if they are going on an official/hospital appointment. When I first went out there, I spent about three hours speaking with a Syrian who had been in the centre for four months. He is a very rare case in which he now has asylum to France, and is awaiting his documents to travel. But we talked for a long time about the services provided by Kofinou (pretty much none) and the challenges the refugees face as they wait to see the outcome of their application. Morale at the centre is very low.
The previous week, I sat in on a meeting at the office with a very frustrated client. He was looking for a residency permit, and wanted one of the lawyers here to help push his case. But he got so emotionally worked up during the meeting that he ran out. He, like most, feels that the UNHCR funds are not used to actually help the refugees. They feel that they are kept here without rights for a long period of time, in order to make money for the country from the fees they need to pay at each turn. Cyprus tends to be the country to claim that it is too small to do a lot of things; but, UNHCR supposedly gives all EU countries the same amount to address the refugee crisis, and Cyprus is often viewed as being one of the worst at handling the funds - inefficient, overly bureaucratic and very slow moving.
There is a general feeling among the refugee community that the country takes a lot of money from the fund, uses it improperly and and then claims it is too small to implement some of the basic practices that other EU countries implement with success. The lack of services leads to an overburdening of NGOs, and the anger that boils over into what could be a violent situation. People feel helpless and useless, and all they want to do is work and have some financial and social stability. The dependency on the system that results from the poor services provided early on also creates feelings of resentment from the Cypriot community. Cyprus was hit very hard by the financial crisis, and its employment sector is still in slow recovery. Its relationship with Greece's troubled economy has left people frustrated, and the Cypriots in general are not welcoming to newcomers.
So, I sensed the same frustrations with the residents at Kofinou. The residents feel neglected, and after seeing the way they live, I can't blame them. Many work illegally on farms but are exploited in both time and money, and the employers know they cannot complain. I went out for coffee with my coworker Hazem, who is one of the Syrians off the boat, and who is volunteering at FWC as an interpreter. I was talking about the frustrations and he (as someone who lives at Kofinou as well) was echoing some of the same concerns. That conversation was the beginning of a project I will be implementing in about 10 days. I will be going to Kofinou two times per week with another instructor (who we will interview for the project next week), two assistants and a translator. I'm calling it the Comprehensive Refugee Integration Project, and I'm the lead.
On the team I have a psychologist, an integration officer and my friend Hazem, who I mentioned before. I'm forming a group of instructors who I will train, and who will run classes for the residents for two hours per day, twice per week. I am building and perfecting the curriculum now, and it includes topics such as Public Transportation, Health and Hygiene, Mental Health, Social and Legal Capabilities, Finances and Employment Preparation. It's an eight-week program (16 modules). The focus is on real-life skill building. Each Friday (fingers crossed, I'm waiting for a transportation fund approval), a limited number of students will go on a field trip to practice the skills we learned about that week. English and Greek classes will start up at some point too, but the problem is that there is not enough space/staff/capacity to teach everyone. A local retired teacher got in touch and will be starting up some classes at FWC, so those who can afford to come to the city a few times a week can participate. Otherwise, we will need to wait to have on-site language training at the centre the way I originally intended to have as part of the CRI Program. I'll build Greek and English vocabulary into my lessons for each topic and hope that that covers the major points. I'm also going to have a component where people who have trades/skills volunteer to come and teach that skill once. So, artists or painters or jewelry-makers will come up for a day and do a simple exercise with the group. They can learn something different and it's also therapeutic. And, they feel that people are not afraid to interact with their community.
The point of the CRI Program will be mainly to build capacity within the community and to prove that they can be proactive even when their refugee status is up in the air. I understand their frustrations with the system, but I've been telling my team that we will have zero tolerance for complaining about the UN/government/NGOs within the context of our project. The lawyers and organizations can work on the high-level stuff involving policy changes, so I'm encouraging them as a group to not default into a negative and helpless mindset. We are giving them concrete skills that will help them integrate into society once they are recognized, and these same skills even if they are not recognized in Cyprus. The focus will be on continuous self-development. As of now, no program exists for integration, and the ones that ever existed were just language, and they didn't last. I'm being careful to be realistic about what we can and cannot do. I find that sometimes, people here want to start up an idea and since they haven't thought through all the details, the idea fails. I cannot foresee all the challenges I may face, but I am working hard to prepare for the ones I can. In later posts, I can talk about some of the logistical/financial/social challenges of getting this program off the ground.
This project is modeled after a Cultural Orientation program that existed at my previous work at International Institute of Boston. IIB had a highly developed refugee resettlement program, so I can see the potential in repurposing some aspects of the program for Cyprus. I'm bringing a lot of knowledge from my work in Boston to manage this project, and the intention is to get high-level EU or UN funding for this on a yearlong basis. I think it can definitely be done, and if it is, then I would plan on staying here in Cyprus to help carry it out.
So far, I have made a few trips out to Kofinou and conducted a baseline survey, translated into Arabic. Residents rated "preparedness" on topics/skills 1-5. Obviously, the numbers were very low. At the end of the program, they will complete the same survey and I can map progress. This survey will come in handy when proving the efficacy of this program in applying for grants. This week, I am continuing to do logistics organization and baseline information gathering. It's a great challenge to implement a project without any funding, and it's forced me to learn the different techniques to mobilize people for reasons other than money. The community up at Kofinou has been extremely receptive to "the American lady" and I'm really excited to start it up.
I can tell that the residents are putting a lot of hope into me and carrying out this program, although I think some are skeptical that it will happen. I will tell them once it starts that it's a work in progress and they need to be patient and not add me to the list of disappointments. Luckily, I've made some great connections in the community there who vouch for my cause and keep the morale high for this project. I plan on using those people to help run the program at some point, fostering the idea of capacity-building within the community to create leaders.
I'm lucky to be part of an organization that is giving me free reign to design, manage and carry out this project. When I first proposed it, it got good feedback here but I think they were also skeptical of how I could lead it when the other members of the team have their own tasks in other areas. As time goes on, I've been running meetings and producing documents and write-ups and budgets and plans, and now the whole group is seeing the reality of what it could be. I know the potential of a program like this, and what it could mean for refugees in the real world (and what it could mean for my organization in terms of funding and international recognition), and I'm in the middle of proving myself. It's a really exciting process, and I'm happy to be so busy with this.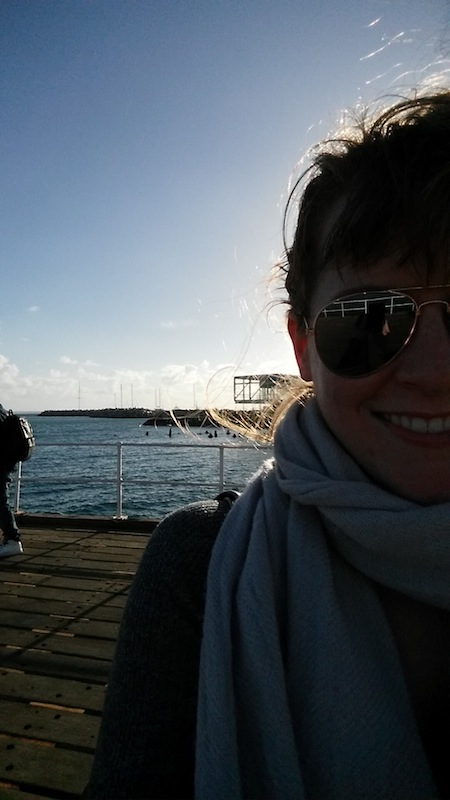 On another note, I took a trip with some friends to Limassol, a city on the southern coast of Cyprus. We stayed with a Cypriot friend and his parents, who showed me the real meaning of Cypriot hospitality - food and drink provided at every turn. The father of the family owned and operated a dairy farm, and we got to try all his fresh products. We discussed politics and business over halloumi, tea, homemade yogurt, and potatoes. It was a beautiful weekend, and I hope to go back to Limassol later in the month. Life there is very simple, and it allows you to enjoy a morning walk in the sun without feeling the worries of life overcrowding your thoughts.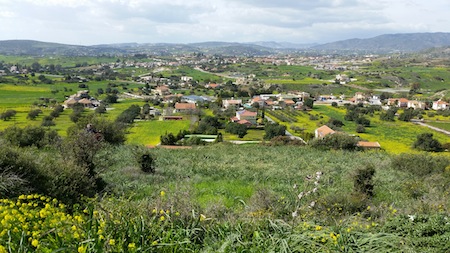 Living in the city my whole life, I had become accustomed to the fast pace of work, the commute, and filling up weekends with things I felt obligated to do. Here, I have come to really appreciate feeling disconnected from all the noise of life. Not having a car, and not having a data plan on my phone have been the two biggest factors for me. When I had a car at home, I tried to do too many things on the weekends, and by Monday I felt that I didn't have any chance to actually relax and recharge. Here, I make simple plans to get my errands done, but I leave the rest to chance and how I feel. I feel a freedom in not having a car, and it has allowed me to see more of the city in my travels.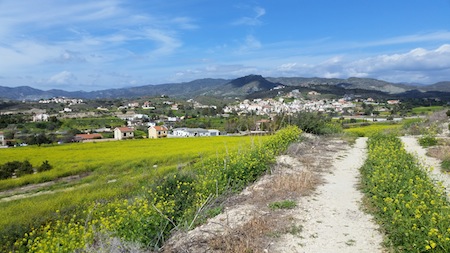 Not having a data plan has prevented me from using Google Maps to find everything. Although I'm generally terrible at directions, I've been learning my way around the old-fashioned way. I use maps online at my apartment, but once I leave, I need to use my own intellect to get around, something I haven't had to do in a long time. Relieving myself of the dependency on technology has been the reason I have wandering into some of the best finds in Nicosia.
By Maryann
Maryann volunteered in Cyprus with the help of a Christianson Fellowship, from the InterExchange Foundation.