---
How to Get From Major Airports to Manhattan
---
2 minute read
If your flight is arriving in New York City, you are going to land at one of the major airports in the area: John F. Kennedy (JFK), LaGuardia (LGA) or Newark (EWR). Once you pass through customs and collect your luggage, you will realize there are multiple ways to get from the airport to Manhattan. Here are a few suggestions to make your choice easier and your journey more pleasant:
Airlink shuttle
Go Airlink offers convenient, easy, safe and affordable airport shuttle service. Want to save money? InterExchange has arranged a special discount for all our participants! Be sure to book your ride in advance.
NYC Airporter Bus
![NYC airporter](https://iex-website.s3.amazonaws.com/images/github/3ffd5bd6-d98e-11e5-8207-347609e697a5.jpg "Image courtesy of Ken via Creative Commons")
You can purchase your ticket from the NYC Airporter ticket agent outside of baggage claim or at the Ground Transportation Welcome Center.
Daily hours of service are: 5:00 a.m. – 11:30 p.m. 7 days a week, every 30 minutes on the hour (e.g. 5:00 a.m., 5:30 a.m.).
From JFK, the cost is $17, while from LGA it's $14.
Newark Airport Express
You can purchase your ticket when boarding the bus outside the terminal. Daily hours of service from Newark Airport to Manhattan are: 4:00 a.m. - 1:00 a.m. 7 days a week, every 15 minutes.
EWR: $16
Subway
You can take the E train towards Manhattan. The ride will take more than an hour. From JFK, this will cost $7.50 (includes Airtrain and subway ticket).
Taxi
JFK: the cost is approximately $52 plus tip and tolls and the trip takes about 45 minutes depending on traffic. As soon as you get in the taxi, let the driver know that you want a 'flat rate' ($52). The driver should not be using the meter to determine the rate and you should not take "No" for an answer when you ask for the flat rate.
LGA: the cost is approximately $35 plus tip and tolls and the trip takes about 40 minutes.
EWR: InterExchange does not recommend taking a taxi from the airport in Newark; it is very expensive.
You can estimate the price of your taxi using TaxiFareFinder.
Remember, prices and schedules are be subject to change. Always take into account weather and road conditions when planning your trip.
Travel safe!
By Tanya Burovtseva
An international exchange alumna originally from Ukraine, Tanya started her career at InterExchange in 2011. Tanya is passionate about travel and cultural exchange and enjoys meeting J-1 exchange participants at InterExchange events.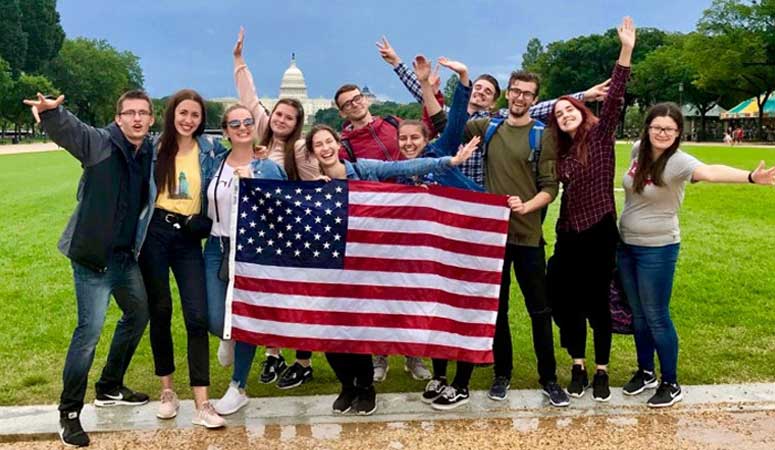 Experience American culture while working and exploring the USA
Sign Up
Learn More
Call Us