---
InterExplorer 2015-2016 Winter Winners
---
4 minute read
We at InterExchange are happy to congratulate the winners of the Winter 2015-16 InterExplorer contest! It's been wonderful to see all of the fun and interesting ways that our participants have immersed themselves in U.S. culture.
The InterExplorer contest challenges our J-1 exchange visitors to explore the United States, and then share their photos, videos, and experiences with each other! These activities include parades, volunteer activities, festivals, food, national parks, sports, and much more!
Introducing the winners of the Winter 2015-16 InterExplorer contest:
Jenny from Colombia First Place
Jenny R. is an au pair in Bellmore, New York. Jenny truly took advantage of her proximity to New York City, and saw nearly everything she possibly could. It seems that she's seen every park, museum, and attraction in the city! She's also visited different religious sites, such as Riverside Church and Temple Israel.
One of the activities she was able to participate in was the Lunar New Year Parade. "Dragon dances, acrobatics, dumplings, and more! "The Lunar New Year Parade in Manhattan's Chinatown, iconic cultural festival of New York City. Just amazingly frozen but worth it," she commented, alluding to the parade taking place on one of the coldest days of the year!"
She also shared her culture with her host family by making some Colombian dinners for her family, and volunteered her time at a soup kitchen! "Once again volunteering, doing one of the best things that I could do, serving more than 500 homeless people, Amazing…" she commented.
These are just a few of the awesome cultural experiences that Jenny was able to take part in. "I probably wouldn't have explored the way as I did if it wouldn't have been for this contest," she commented. "Thanks for encouraging to see such a great places!!"
Daniela from Colombia Second Place
Daniela G. is currently an au pair in Long Grove, IL. We were impressed by how much of the Chicago area she was able to see! She also had the chance to visit Tampa, Florida, as well as New Orleans and Wisconsin!
"Went to Millennium Park in one of the coldest days I've experienced in my life. It's still a magical place to visit."
She also made it to the Art Institute of Chicago. "It's the second-largest museum in the United States," she explained. "It features a collection of Impressionist and Post-Impressionist art in its permanent collection. One day is definitely not enough to appreciate everything that this museum has to offer. Im looking forward to going back soon!"
Daniela shared this view from the Skydeck (Willis Tower) in Chicago. "Is a 108-storey skyscraper," she commented. "Taking this picture was such a scary but awesome experience for me!"
Nadia from Argentina Third Place
Nadia K. is currently a Work and Travel participant at the Four Seasons Resort in Palm Beach, Florida. She has been having a wonderful time at her job. "Who wouldn't like to work here?? Four Seasons Palm Beach: best resort ever!" she commented. She's also been able to take advantage of Florida's mild winters in her free time! Here she is with her "tennis crew":
Nadia also shared some stories from some amazing trips to places such as San Francisco and Las Vegas!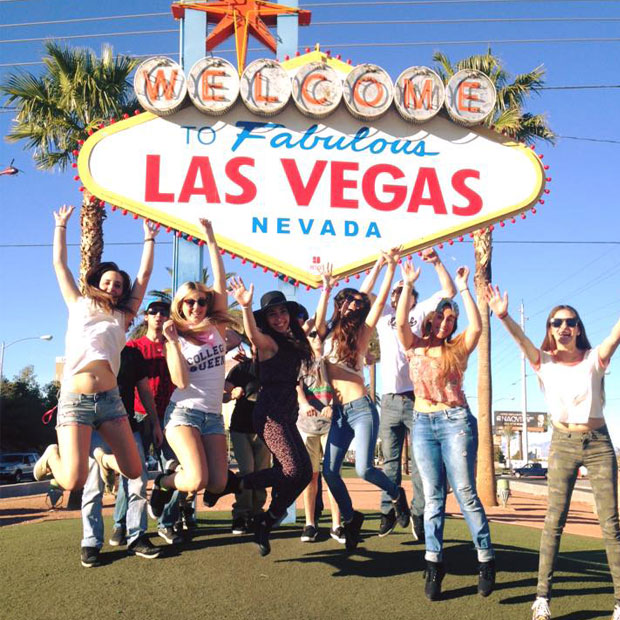 Lisa from Belgium Forth Place
Lisa D. is an au pair for a family in Upper Saddle River, NJ. Lisa was also able to visit many exciting things in New York City! For example, she had the chance to see Finding Neverland on Broadway. "Last minute choice to go and see a Broadway show! Finding Neverland is a show I would go and see again," she said.
Lisa also took some silly photos at Ripley's Believe it or Not, and saw some Carlo's Bake Shop in Hoboken.
She also shared some sweet moments with her host family, such as baking for Valentine's Day! "Valentine's day is celebrated much bigger here than in my country. Tomorow there is a party for the grandma so we made some cupcakes and a big cake," she said.
Gabrielle from France Fifth Place
Gabrielle C. has been working as an au pair for a host family in Silver Spring, MD. Gabrielle shared many wonderful moments, both with friends and with her host family!
"Last week with my great host mum, for her birthday! I made all the decorations. Such a good moment!"
Congratulations to all five winners, and to everyone who participated in this winter's contest. Keep exploring!
By Stephanie Willhide
Stephanie started her career working for a cultural exchange program that supports English language learning in Chilean public schools. She came to InterExchange's Au Pair USA program in 2013, and now works as the Web Developer.