---
Becoming a Culturally Relevant Teacher in Italy
---
2 minutes
Hi, everyone!
Thanks for checking out my blog for this two-month adventure in Fermo, Italy, where I'm volunteering at a private elementary school as an English teacher! My entire family is Italian, and when I've been to Italy before for vacation I've always felt at home. Because of this, I chose to come work in Italy because I wanted to be engulfed in my ethnicity, and feel life as a true Italian.

I recently graduated from Baldwin-Wallace University in Berea, Ohio, where I received my Bachelor of Science in Early Childhood Education. Teaching is my passion, and I take every opportunity that I can to practice and perfect my passion. While I've had amazing experiences in the States, I wanted a chance to be a more culturally relevant teacher. Being culturally relevant means not only understanding the diversity of the students in your classroom and how that affects their learning, but it also means understanding where you as a teacher come from and how that connects to your students. Coming to Italy was the perfect opportunity to help me become the best teacher that I can be.
Now that I've arrived in Porto San Giorgio, I've been getting to know my beautiful host family and its way of life. I've also had my first few days at my school as well. This school that I'm at is a private school, which is very rare in the Italian culture. Its pedagogy is completely different than that of the public schools here. The private schools focus on allowing children to make their own decisions and having us facilitate positive reinforcement. As a teacher, I agree with this concept. However, when there is a certain group of students among you, this can be quite difficult. Regardless, I'm enjoying my time here so much, and I can already anticipate not wanting to go home quite yet at the end of two months!
Sofia
Sofia participated in InterExchange's School Teaching Assistant Italy program.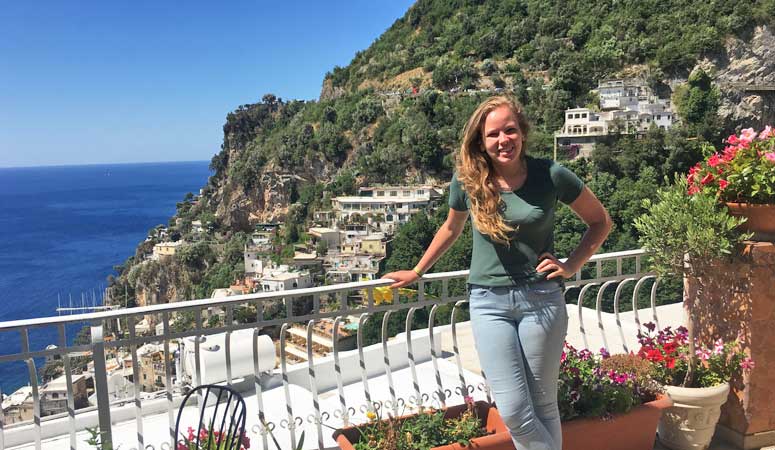 Teach English to your host family and explore Italy in your free time!
Sign Up
Learn More