---
4 Reasons to Be a Teaching Assistant Abroad
---
2 minute read
If you're interested in exploring the teaching profession while also learning about another culture, InterExchange's School Teaching Assistant programs in France, Italy, and Spain are excellent ways to do both! Here are four reasons why our participants rave about the program:
Free Accommodation with Host Families
Participants are placed with carefully screened host families who want to share their culture and welcome a native English speaker. Living with a host family not only removes the stress of having to find your own accommodation and pay rent, but also provides an opportunity to gain insight into the lives of locals.
"I found my host family to be very loving and wholesome."
— Ben, former School Teaching Assistant Spain participant
Professional Development
As a volunteer teaching assistant, you'll work alongside seasoned teachers and have the opportunity to create lesson plans, lead activities, and connect with your students. Participants receive helpful, formal feedback from a mid-program evaluation; an invaluable way to develop teaching and presentation skills while becoming part of a local community.
"I'm in school studying to become a history teacher and having the classroom experience in a different type of school in another culture was something that I thought would be important for me to experience before entering the job market. So far the program has been invaluable in influencing my teaching style."
— Sean, School Teaching Assistant France participant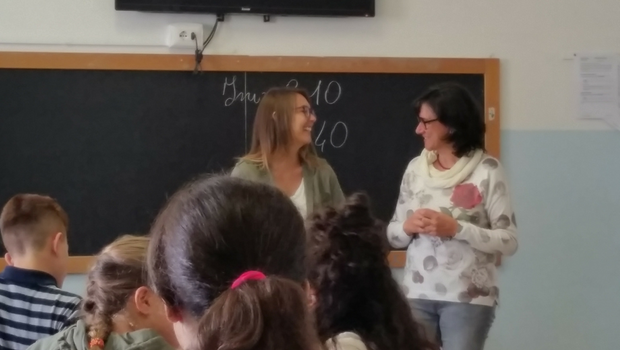 Cultural Competency
Teaching abroad is an opportunity to experience a different education system and reflect on how your own background influences the way you connect with students. Participants hone their teaching skills in a cross-cultural setting - an asset in our multicultural world.
"Being culturally relevant means not only understanding the diversity of the students in your classroom and how that affects their learning, but it also means understanding where you as a teacher come from and how that connects to your students. Coming to Italy was the perfect opportunity to help me become the best teacher that I can be."
— Sofia, former School Teaching Assistant Italy participant
Language Skills
It's not necessary to know the native language for these programs; however, learning the language of your host country will help you navigate daily life and connect with locals. There is ample opportunity to increase your fluency: through your host family, teachers at your school, and locals in your community.
"My Italian dramatically improved (mostly because my host family spoke no English and most of my teachers didn't either), and I really got to experience daily life in Italy and Italian culture like never before."
— Wendy, former School Teaching Assistant Italy participant


Questions?
Contact us at 1.800.597.3675 or email workabroad@interexchange.org
By Ashley Lulling
After earning a M.A. in Diplomacy & International Relations and teaching English in South Korea, Ashley joined InterExchange to promote cross-cultural understanding and help others have amazing experiences abroad.