---
Habits are for Nuns - Embracing Adventure in Thailand
---
4 minutes
It's no secret that we are creatures of habit. Even when we start something new or exciting – move to a new city, go to a new school, start a new job – we immediately look to settle into a routine: wake up, take a shower (hopefully), grab a coffee ("Yes, I would like a shot of pumpkin spice"), go to work, think about exercising, go to the bar with friends instead, snap a pic for social media, and so on.
We do these things, we have these habits, because they keep us organized, because they give us the time to put into the things and people that are important to us, because doing the things we like brings us comfort.
It's a big step to move to the other side of the planet and start a new job in a culture you probably can't even begin to understand. My advice: don't step, jump!
The choice to leave your comforts behind and join the Teach English Thailand program may feel like the biggest, most impactful decision that you'll ever make, but coming here is only half the equation. You're choosing to venture into the unknown, to throw caution to the wind, and take a leap of faith. Carpe diem! This is especially easy in Thailand because you can get almost anywhere in the country by bus for less than 1000 baht (US $35)!
Join your fellow program members on trips to different parts of the country even though it requires you to take an overnight bus to the middle of nowhere with no cell reception.
Eat that delicious smelling dish despite the fact that you cannot readily identify the meat. (There is a 30% chance it's cricket or mouse, but after a while you'll stop keeping score.)
Join your new co-workers at a local festival or event even though you don't speak the language and everyone will stare at you. Just say yes, even if it's outside your comfort zone – especially say yes then.
Do more than just seek out new experiences and take pictures of places and things. Do what you can to capture moments. Here are some of my favorite ones so far:
Floating in a pool in Erawan National Park with fish nibbling my feet while I watched the sunlight streaming through the canopy of trees surrounding me

Running down steep, mountainside stairs to avoid a thunderstorm at the Tiger Cave Temple in Krabi and getting soaked anyway!

Watching floating lanterns dot the sky like stars during the Loy Krathong festival

Hearing about the history of a local temple from a monk with broken English at Wat Chedi Sao

Getting briefly lost in Chaeson National Forest with friends because we took the wrong fork
My short time in Thailand has already been host to a cornucopia of moments I will never forget.
The serenity, exhilaration, love, intrigue, and bemusement are some of the purest emotions and moments that I have ever experienced and if you keep your spirit open you'll find that your life while traveling will be filled with these moments that you will hold onto forever.
It's an interesting transition, breaking away from old habits, the creature comforts of home, and jumping into a whirlwind of experiences in a new country. But, as my grandfather once told me, "A habit is just a nun's hat and I hope you have a better sense of style."
Avoid the routines that will bring complacency. Your time abroad may be limited and you owe it to everyone who wishes they could be as brave as you to make the most of it. Take the time to find the stories and moments you were seeking when you applied to this program.
The adventure of a lifetime is waiting for you. All you have to do is embrace it.
Navarre
Navarre is 26, from Los Angeles, and a participant on InterExchange's Teach English Thailand program. He is a recovering software engineer, traveler, blogger, ordained minister, avid scuba diver, and not much of a photographer. He is excited to share his experiences around the world with friends and family despite their many protests.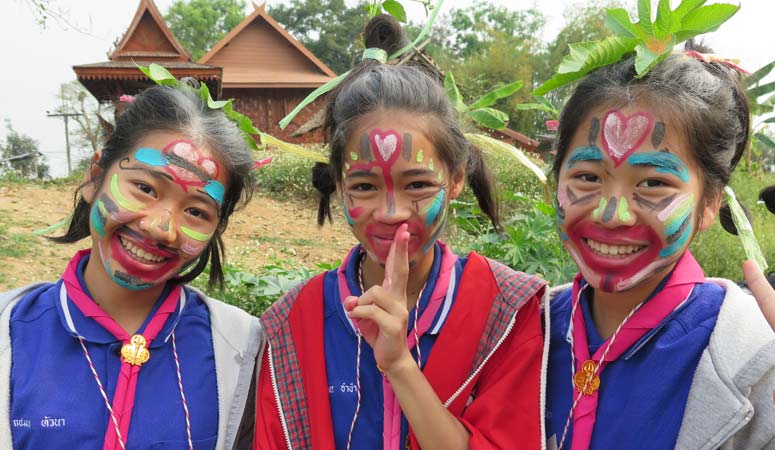 Boost your resume, earn a great salary, and immerse yourself in Thai culture!
Sign Up
Learn More