Alumni Spotlight: Kristen's Complete Guide to Teaching English in Thailand
By Joy Lo
---
InterExchange's Teach English Thailand program is a great way to immerse yourself in Thai culture while gaining professional teaching experience. No teaching or Thai language skills are required- just a bachelor's degree, an open mind, and flexibility.
Are you thinking about teaching abroad? It may seem overwhelming, and you probably want to hear about the experience from someone who has actually gone through it!
That's why we sat down with former participant Kristen to find out what it's REALLY like to Teach English in Thailand. Kristen, originally from Wyoming, joined the program a year after graduating from college. She couldn't have imagined the unexpected cross-cultural lessons that were in store and tells us about her experience in this candid interview. From workplace culture in Thailand to challenges in the classroom, Kristen spills it all!
Did you have teaching experience prior to the program?
I had no prior teaching experience, very little experience working with kids, and I didn't even really like public speaking. I knew this was going to be an something that would push me out of my comfort zone!
Kristen administers an English test to eighth graders. Image courtesy of Kristen K.
Where did you teach?
I taught at Phusangwittayakhom, a small public secondary school in Phayao Province. Phusang is close to the Laos and Burmese borders and is a small, somewhat rural village. Most of my students' families were rice or rubber tree farmers.
I taught Mattayom 1, 2, and 3 which is the American equivalent of seventh, eighth, and ninth grade. My smallest classes had about 25 kids and my largest up to 40.
Initially, I was shocked at the low level of English of some students. There were classes where it seemed they knew practically nothing. However, as our time together went on and we grew more comfortable with each other, I started to learn what they knew already, and we worked together more effectively.
Views of rural Thailand. Image courtesy of Kristen K.
Were you provided a set curriculum and textbook from which you created lesson plans?
My first semester I was given a set of outdated textbooks with speaking and listening activities. The listening activities were on cassette tapes; however, the tapes were long gone. Even if they weren't, who knows where I would have found a working cassette player!
At first it was difficult to have minimal guidance for lesson planning. Eventually, I learned how to adapt the book to fit with the level of my students, and designed my own listening and speaking activities.
The following semester, I was given course outlines and was free to design all my lessons and activities as I wanted. I was also responsible for writing and administering my own midterm and final exams, and deciding how I wanted to evaluate my students.
When I asked teachers in my department what else I should be doing, or how to meet the school's expectations of me, I was told, "Play games! Speak English! You're the American teacher. Up to you." Because my school was in a rural area, they were just happy that the kids were engaging with a native English speaker and having fun using the language. The quality or quantity of what they were learning was secondary. Of course, this isn't the case for all schools. Private schools in big cities with more resources will have higher expectations from teachers and students.
The standardized tests in Thailand have an English grammar component. This means that Thai students have been studying English vocabulary and grammar for many years with Thai English teachers. So although most students will have a decent vocabulary, they struggle with listening and speaking skills. They need help learning how to take the vocabulary they already know and putting it together to form complete thoughts and sentences. This is where native speakers come in.
Kristen's Thai students in their classroom. Image courtesy of Kristen K.
What are the essential attributes to successfully complete this program?
Commitment to being a teacher is essential. Although you will have time to travel and explore this amazing country, it's important to remember that the majority of the time you spend in Thailand will be in the classroom with your students, and they should be your first priority. Everything else should be secondary.
Working in a Thai school and working with kids is often unpredictable and things can change suddenly. Life in Thailand isn't always easy, and flexibility is essential. Being an optimist, or at least trying to keep an optimistic outlook is helpful. When things go wrong - and believe me, sometimes things will go wrong, be it lesson plans or bus timetables - it is important to look on the bright side.
Thailand has a conservative and traditional culture, especially for women. As a guest, although you can be yourself, you are expected to adapt. Once a teacher, always a teacher. When out and about in your local community you need to be seen as respectable and responsible, otherwise it will reflect badly on you and your school. Having a smile on your face will get you a long way in Thailand. Walking around with a big grin will make you approachable and someone who Thai people want to get to know.
Kristen with fellow teachers during a school festival. Image courtesy of Kristen K.
What differences did you notice between the Thai school system and the U.S. system?
One of the biggest differences in the Thai school system is that Thai students cannot "fail" a class. At my school, if a student "failed" my class, I was expected to give them extra work that would bring their mark up to a passing grade. This can be extremely frustrating for Western teachers, who are asked to pass a student who didn't do any work. However, I tried to keep in mind that even though some students appreciated my class and wanted to learn English, not all students enjoy all subjects and perhaps English just wasn't their thing.
Also, students are arranged by test scores into classes. That means that classes are generally grouped by average academic ability. In a given class you can have kids who are nearly fluent in English learning alongside kids who can barely write their name. I always liked to think that the kids who had poor English skills maybe made up for it in math or science!
Kristen at school with her students. Image courtesy of Kristen K.
What was your relationship like with fellow Thai teachers?
My English department was very social. At least a couple days per week, all the teachers would make lunch in the office and eat together. Some of the teachers liked to practice their English and ask me lots of questions; however, some were very shy and hesitant to make conversation or even speak to me. Thai people can be quite reserved, especially in a professional work setting, so it took time for me to build relationships with everyone.
I did not have a co-teacher, and I was expected to manage on my own. However, if I had discipline or behavior issues with students, I spoke to teachers in my department for advice and help. If I was having real trouble with a class, they would assign someone to come with me and help me with the students for a few weeks. The other foreign teachers and I would sometimes go to each other's classes to help with activities and classroom management.
Thai students during a face-painting activity at school. Image courtesy of Kristen K.
How is the Thai workplace culturally different than a U.S. workplace?
Thai culture is very hierarchical. Seniority is important, and this aspect of Thai culture plays a big role in the workplace, especially in schools. The director is the head of the school, followed by vice directors, heads of departments, senior teachers, junior teachers, and at the bottom are students. As a foreigner, your place in the hierarchy is a bit unclear. The director's whims and wishes can have an effect on your co-workers and your classroom, and as a guest, all you can do is go along with it and be flexible.
A student enjoys a face-painting activity at school. Image courtesy of Kristen K.
What challenges did you face at your school?
At first, I disliked being "the last one to know." As an outsider and a newcomer to a Thai school, things can seem chaotic and disorganized. Often you are informed of important details at the last minute and that can be frustrating. However, it's important to remember what we can see and understand (mostly due to language) is very limited.
Class size is another big challenge. It's difficult to maintain order in a class of 40 students, let alone teach them English at the same time. This is something that gets better with practice and experience.
Kristen with her students in Phayao Province, Thailand. Image courtesy of Kristen K.
What did you enjoy most about your school and your neighborhood?
My school-provided housing was located on the school grounds. I loved living at school. After class, I would walk around and visit kids and teachers as they were doing activities. I would ask them questions, "What are you doing? Is it fun? What time will you go home?" Sometimes they understood me, sometimes they didn't, but they always smiled and tried to engage. Usually, they invited me to join. There was a group of girls with whom I would play badminton on a regular basis. I loved having interactions with the students, whether I taught them or not, outside of the classroom environment.
As I said earlier, the community where I lived was quite rural. There were only two foreigners who lived in my area. Everywhere we went, people knew we were the English teachers from Phusang School. At the market I would meet my students' parents; they would introduce themselves to me. Often I didn't understand what they'd said to me, or I would have no idea who their child was, but it felt very welcoming to have people recognize me and say hello.
Kristen's house on the school grounds in Phayao Province. Image courtesy of Kristen K.
How would you describe your quality of life in Thailand, given the monthly salary?
When I was a teacher in 2013, the monthly salary for foreign teachers was 20,000 Thai Baht (THB) versus today's salary of 28,000 THB. With this salary I was able to live comfortably, eat out daily (Thai food), travel on the weekend, and still save enough money to travel during the school break between semesters. Thai food, utilities, accommodation, and transportation are very inexpensive compared to U.S. prices. However, alcohol and foreign food costs are comparable. Limiting those things can help you save money!
I think it's important to note that the starting salary for a new Thai teacher with a degree in education is less than 15,000 THB, and Thai teachers are expected to work really hard. As a foreign teacher, your salary will be higher than many of the teachers in your department, and you will have comparatively fewer responsibilities.
Kristen with fellow teachers at a school event. Image courtesy of Kristen K.
Is it easy to travel throughout the country?
Thailand is a very easy country to travel in. There are many forms of inexpensive public transportation that make it possible to go from one end of the country to the other in a relatively short amount of time.
I preferred to take local buses to visit other teachers who were placed in towns and small cities nearby. It was fun comparing their experiences in Thailand with mine.
Thailand has many public holidays, so on long weekends it's possible to travel a little further and explore new areas. During the school break between semesters, there is plenty of time to go to the northern or southern parts of the country or to see other countries in Southeast Asia.
A typical local bus in Thailand. Image courtesy of Pixabay
You now live in Thailand as a Program Advisor at Overseas Education Group (OEG), which is InterExchange's partner in the country. What led you to take on this role?
Throughout my time as a teacher, I loved to volunteer at OEG's Teach in Thailand orientations. It was a great chance to meet the new incoming teachers and talk about my experiences in Thailand. I got to relive the excitement of first arriving and tell stories about my crazy students.
Being a teacher in Thailand has been one of the most rewarding experiences of my life, but it comes with challenges. I think that's one of the reasons I appreciate what I do at OEG. Having a challenge makes us grow and learn new things about the world and ourselves, but it's nice to know that you have support and advice from people who have been through a similar experience to you.
Kristen during OEG's orientation. Image courtesy of Kristen K.
A big thank you to Kristen for sharing her experiences teaching in Thailand! Participants on InterExchange's Teach English Thailand program will have access to in-country support from Kristen and the rest of the knowledgeable team at OEG.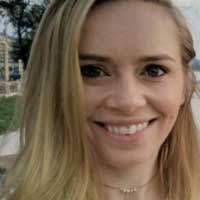 Joy Lo
Joy is a huge advocate for cultural exchange. She's lived across the U.S. and various countries around the world including the UK, Australia and Indonesia. She has a unique perspective on working and thriving in other cultures. She's been a contributing author on Au Pair USA program.