---
Why Working Abroad is Worth Taking the Leap
---
6 minutes
InterExchange participants aren't all recent college graduates, but the year after graduation is the most common time to take a "gap year." I moved to Tokyo a year after undergrad, straight from my small, southern, university town of about 250,000 people. I could hardly have chosen two more polar extremes.
The Scary Part
I grew up in Florida where it's green and warm all year round, where people are friendly, and the culture is so casual you can wear cargo shorts to a fancy steakhouse. My college town of Gainesville, Florida was also small – I could ride my bike from the Eastern sticks to the Western boondocks in less than 30 minutes and walking from the university campus to downtown took all of 10. I never needed to take a taxi. I spent every day with my closest friends, hanging out on porches, grabbing happy hour burger-and-beer deals, and lazily walking to the gas station for a sweet iced tea. There was little reason not to socialize all day, every day, and I had a tight group of friends that I considered family.
Then I made the decision of a lifetime: I would teach English in Tokyo - population 25 million, few of whom have any English skills and who exhibit a self-described "cold and standoff-ish culture" - alone. Most of my friends stayed in Florida to finish school or for jobs. The hardest part for me was not that they were still "home," where the sun always shines and the beach is never far, but that they were together. It never got easier hearing about their nights at Token Tuesdays – together. Or when they went to see one of our most beloved musicians who FINALLY came to town, or celebrated each other's birthdays at our favorite restaurants – together. As it turns out, though, there are many reasons why my decision was ultimately worth it and something I will always be proud of myself for - and I know I made everyone crazy jealous.
Why It's Worth It
Global Perspectives
It's amazing how many nationalities you can encounter in one place. In Japan, I met Parisians who taught me about French culture. I learned about Swedish culture straight from their tall, blonde mouths. I met a lot of Koreans and Filipinos, giving me insight into intra-Asian politics and perceptions. You may not have ever considered what half-Iranian and half-Japanese people look like, but I assure you, they're beautiful.
Learning by Doing
I'm a doer and a skeptic – I need to touch, feel, smell, taste, and hear in order to understand. I need to view the mountain temples from horizon to horizon, not from one edge of the screen to the other. I need to stumble and mumble and grumble my way through my first sushi order to discover a new favorite kind. Some people are happy just knowing these things exist in the world, but I've always needed to experience everything on my own to understand its value. In Japan, I felt a sense of excitement and novelty every day and was never afraid that I was wasting my youth or not making the most of my time.
Soft Skills
I feel like I gained 10 years of knowledge and experience in the three years I lived abroad. I developed intercultural communication skills, which are invaluable in the diverse professional world of the United States (and within New York City especially). I learned to be adaptable, flexible, and non-judgmental. I suspended my expectations so I wouldn't miss out on anything. Most of all, I learned how to embark on a journey by myself. I got to know who I am – both the pretty and the ugly, the fearful and the courageous, the ignorance and the skill. There were times I made horrifying cultural faux pas (that I will keep to myself!) that now make me smirk, because I learned how to forgive myself. I frequently thought of my immigrant grandparents and neighbors and classmates who had to have experienced the same things when they first arrived in America.
Appreciating What We Have
Reflections on my own life, what it means to be an American, and what it means to be human were daily musings. I never appreciated how lucky I was to have watched space shuttle launches from my backyard, or how rare it is to find an alligator in your best friend's pool. I never imagined how important hugging is until I went without it for weeks on end, and I realized that chatting over beer and food is the best way to get to know anyone, anywhere.
Understanding Local Values
Teaching is an exceptional way to observe a culture up-close. I taught English to junior high school students and discovered connections between what the students learn and how Japanese adults behave in every day life. In Japan, there is a major emphasis on being "part of the group." Socialization, manners, and philosophical beliefs and values are major school subjects. Learning how my students' formed some of their values helped me refrain from comparing my thoughts and lifestyle to those of the people around me. It also encouraged me to reflect on my own values and habits. I learned to see American culture in a brand new way by having something to contrast it to.
New Friends and the Powerful Bond of Absurd Circumstance
Eventually, I did make a new group of close friends in my community. Some of us were expats from around the world and bonded over the feelings of confusion and exhilaration that accompanied every venture outside in a foreign land. Others were Japanese, whom I grew close to through sharing, dissecting, and evaluating our own respective cultures, beliefs, and practices. I have a special bond with all of these people as a direct result of the unconventional circumstances of our friendship. Leaving my social safety net taught me countless lessons that I will carry forever.
Reflecting from a Distance
Back in my homeland, I often reminisce about my adventures. It was as intense a time as words can describe and the memories are still visceral enough to make my heart beat faster. Now that I can see my university friends and all of my family with relative ease and frequency, I could not be more grateful or nostalgic for my experiences working abroad.
Sure, I missed a lot: my friends met and lost partners, new people were added to our group while others disappeared forever, my cat appointed my mother as his new human-slave, and my youngest sister graduated high school. But those three years were a drop in the bucket of my lifetime. I am still close with the people that I want to be and moving away was not nearly as catastrophic as I had feared it would be. I think about what else I could have been doing during those three years, and while there are some appealing alternate-past timelines, I could not be more proud of myself for my decision.
Melissa Horine
Melissa worked with InterExchange between 2016 and 2019, helping U.S. citizens planning to travel abroad. She traveled to Spain and Ghana before moving to Japan for three years. She now lives in the almost-foreign country of New York City.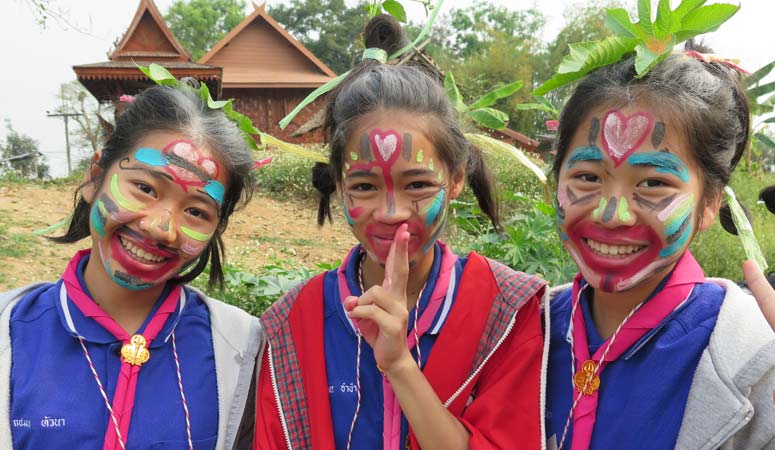 Boost your resume, earn a great salary, and immerse yourself in Thai culture!
Sign Up
Learn More