---
Akwabaa! My Arrival in Ghana
---
3 minutes
I arrived late in the evening after my sleepless journey from New York to London, and finally, to Accra. Having never been to Ghana before, I was anxious about the logistics of getting to my hotel. No matter how many times I've traveled abroad I always feel a little unnerved when I arrive in a new place, and this was my first time in Africa. So many thoughts entered my head as I disembarked from the plane: "who is going to meet me?", "how will I know who I'm looking for?", "what if they forget the sign or I miss them standing there?", "was the hotel ready to receive me at such a late hour?". During this time, I thought of all of the volunteers who join our Working Abroad programs around the world, and identified with the feelings many of them must have prior to departure. Nothing is ever as you expect, even during the most seamless of operations.
Friendly, smiling faces greeted me with an enthusiastic "Akwabaa!" as I exited customs. I saw the sign I was looking for almost immediately and felt so relieved to be that much closer to the hostel and bed! On my way to the hostel I noticed that there were very few cars and people out at 11pm. I was told that Ghanaians generally do not stay outside very late and the ones who do may not be the trustworthy sort. Noted!
I had a ton of energy when I arrived and wasn't ready to sleep, even though I had been up for nearly 30 hours. I checked my email and sent messages to my family to let them know I had arrived safely. The internet connection was so slow it took nearly 30 minutes to send out two emails. After completing this necessary task I was off to my room. Silly me, concerned about the kind of wildlife that can be found in parts of Africa, I checked my room and under the bed in search of unwelcome guests. There was no need. The hostel was very clean and very nice. In fact, it was one of the better ones I've stayed in; nicer, cleaner and safer than many I've been to in Europe.
The next day I found out that Ghanaians were not only early to bed, they were early to rise. As a person who enjoys sleeping in from time to time, especially after an exhausting trip, I couldn't believe how early I got up. I knew my cell phone would not receive service in Ghana and the clock on it would not work. Add to the list of things I should have brought, a watch – I had absolutely no concept of time. The sunshine seeped through the crack in the curtains while a cacophony produced by Accra's urban wildlife filled my ears and jolted me awake. The sun in Ghana is big and strong; when it rises, so do you. I got dressed and ready and turned on the TV hoping I could catch a news show with the time on it. There were many news shows on, but not a single one had a clock on the bottom of the screen. I went downstairs and found out it was 6:15! This would be the norm for the entire time I was in Ghana. I woke every morning between 5:45 and 6am even after walking around all day in the hot African sun. With such an early awakening and the intense heat, I should have felt tired, but I didn't-perhaps it was due to all of the vitamin D I was getting.
Tara Cavanagh
Tara is the InterExchange Au Pair USA Local Coordinator for the Summit area.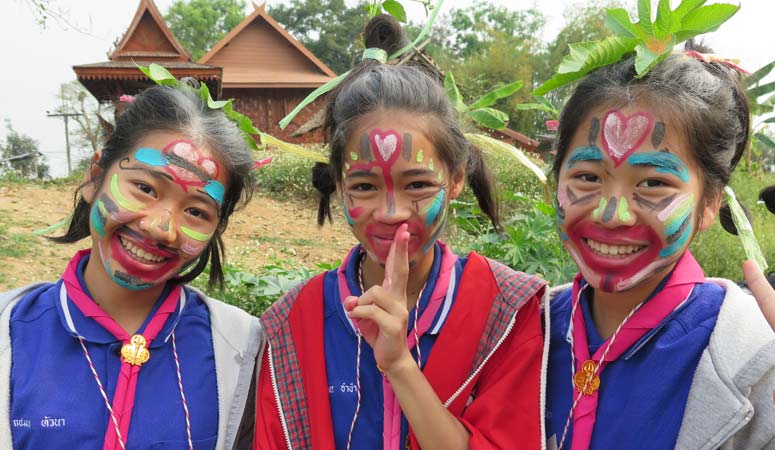 Boost your resume, earn a great salary, and immerse yourself in Thai culture!
Sign Up
Learn More