---
How to Create Great Videos With Just Your Phone
---
4 minute read
Even the most action-packed photograph can't capture the sounds of your favorite music festival, or the interactions between the audience and the band on stage. If you own a newer smartphone model, you already have what you need to shoot a high-quality video that highlights the travel memories you'll always want to remember. Video is also a great way to share snippets of your daily life with family and friends back home and feel more connected!
You don't need to be a pro to get good video content, but there are a few important style and technical tips to keep in mind:
Turn on airplane mode.
Think it's annoying when someone's phone rings during a movie? Then think about how distracting it is to get Tinder notifications while filming your masterpiece. Do yourself - and anyone who doesn't want to see who swiped right - a favor and put your phone in airplane mode when filming. Nothing ruins a beautiful mountain vista like a ping sound.
Always check your settings.
Best practice tip: Don't assume your iPhone is automatically configured to the settings you want for your video. Make sure your phone is filming at standard 1080p at 30 frames per second.
Shoot horizontally, not vertically.
Rotate your phone horizontally if using your smartphone to shoot video - it gives you room to capture more of your scene. Vertical video is great for Snapchat Stories, but if you want standard 16:9 video to share on YouTube or another web-based platform (and for companies, like InterExchange, to share your work), film your scene horizontally.
Stabilize your phone.
Any movement or shaking is noticeable in video and can even nauseate your viewers. Whenever possible, set your phone on a stable surface to film your subject. If you've got $20 to spare, invest in a mount and a cheap selfie stick or mini-tripod that will hold your phone steady - it will make your video look more professional!
If it's impossible to use a flat surface, hold your phone or camera with both hands and keep your elbows down for greater stability. If you can, rest your elbows on a nearby object.
Minimize zooming.
Your phone's camera zooms into your subject digitally, not optically- which means that your photo may look pixelated if you zoom in too much. When you're able, move physically closer to the subject you're filming. You'll also record better audio by moving closer!
You should also avoid zooming in and out too much while filming - it can be distracting to the viewer.
Use the exposure/focus lock.
If using an iPhone, take advantage of the exposure/focus lock (AE/AF Lock) feature. If your phone keeps adjusting and re-adjusting your exposure and focus while filming, tap and hold on your subject until you see the AE/AF Lock banner appear. Adjust your exposure as needed, then tap the record button. This feature is particularly helpful if you're shooting outside, when you're most likely to have abrupt changes in the background or in your lighting.
Pay attention to your lighting source.
As with still photography, you should be wary of backlighting - that is, when your light source is behind your subject. Backlighting washes out your entire shot and can make your subjects look like silhouettes. Unless you're going for a cinematic look, angle your subject in the opposite direction so that the light falls on the front of your subject.
Record clear audio.
Just as you'd want to move closer to your subject to avoid zooming in too much, you should move closer to your subject to make sure your phone's microphone picks up their audio. You'll also want to make sure your hand isn't covering the microphone - all the more reason to use a tripod or selfie stick.
Don't forget to edit your masterpiece.
Video clips are just clips until you put them together as a story. If you're looking to do some simple edits directly on your phone, try iMovie for iOS. If you're looking for more creative control, upload your footage from your phone to your computer and try using a free cloud-based video editor like WeVideo.
Happy filming!
By Teresa Abbate
Teresa joined InterExchange in 2016 as its Communications Manager and loves using her multiplatform storytelling experience to create content viewers want to connect with. Teresa is a native New Yorker and an avid traveler who has spent time trekking through Western China, Morocco, and Iceland.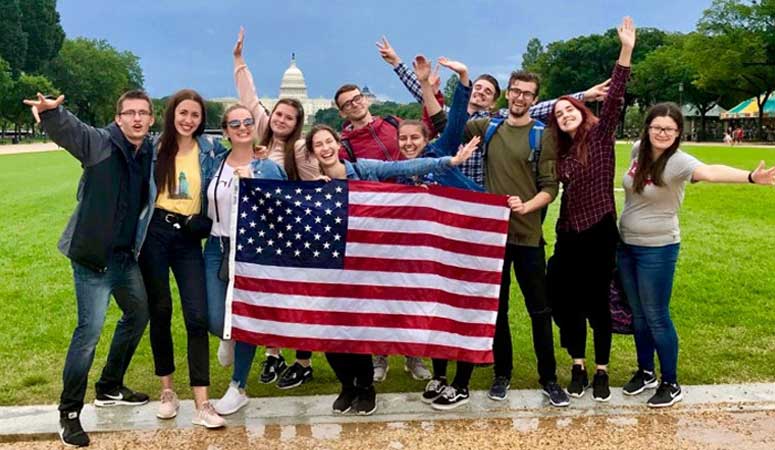 Experience American culture while working and exploring the USA
Sign Up
Learn More
Call Us