Aquarius
Aquarians are forward thinking and usually the one to come up with a new way of doing things. This visionary sign would feel right at home in the Work & Travel Australiaprogram. You are in search of a new frontier to explore and New Zealand is just that. Apply your visions to this land that's teeming with potential and waiting for the right traveler to discover it.
Pisces
Described as the dreamiest sign; mutable, adaptable Pisces can mesh into nearly any situation and is highly creative. A Camp Counselor experience would be a great fit, a place to put all your artistic and fun ideas to work. Friendly, and known as the wisest and most tolerant of all the signs, young campers will be coming to you non-stop for support and comfort.
Aries
You're the first sign of the zodiac and you're all about conquering new challenges. You're decisive, good at being on your own and taking charge. Career training is a good fit for you. Get professional experience to add to your resume, while traveling. Focusing on yourself and moving forward are your best skills, take advantage of them.
Taurus
You're independent, stable, and fun. The gentle part of your nature radiates warmth and kids are drawn to it like a magnet. An Au Pair travel experience could be the best match for you. You're good with money, and in this situation you'll actually be earning it. Plus you'll get your own bedroom in a nice home to relax; a Taurus likes quiet time now and then.
Gemini
As the communicator of the zodiac, what could be a better fit than teaching English abroad? Constant intellectual and verbal stimulation will keep your witty mind challenged. You'll have different challenges every day, so you won't have to stay in one spot. Whether you're teaching English to people in Italy or another country, your natural talents will be put to work.
Cancer
As the nurturer of the zodiac, you're naturally attuned to family and children. A cultural exchange experience as an Au Pair is a good fit for you. Your instincts are to care for other people and spread some of that love that you keep hidden beneath your shell. Children connect with your inner innocent self. As an Au Pair, you will feel in the right place.
Leo
The bold lion seeks a challenge that will put their courage to the test. Learning Spanish in another country is the type of new experiences Leos thrive upon. Leos are self-confident and this program needs somebody like you who will embrace new cultures and life changing experiences.
Virgo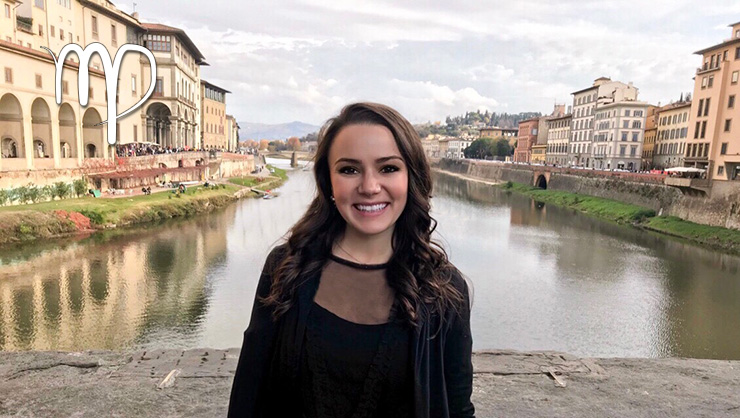 Practical Virgo is the helper of the zodiac and seeks to learn as well as give advice. Teaching English could be the best fit for this sign. As a teacher, your sharp attention to detail and organization provide a sense of calm to those who are testing unknown waters and learning a new language. Your deep sense of humanity makes it easy for you to share knowledge with others to ultimately make the world a better place.
Libra
The sign of balance, you would do best in a Camp Counselor situation. Above all you are focused on your own interactions with other people: you are a people person. In a camp setting you can put your teamwork skills to good use as you spend your time alongside others. You are diplomatic, skilled at solving conflict, and keeping the peace; all the right stuff for a camp counselor.
Scorpio
This mysterious and intense sign is a determined worker. One of the most career focused signs in the zodiac, Scorpio knows how to push forward independently and focus on climbing the ladder. A Career training experience would be the best fit for you. You're dedicated and fierce, you want the most out of your travel experience so a program that adds to your resume is prime.
Sagittarius
This optimistic fire sign wants to be on the go. Sagittariouses are open-minded and extroverted, optimistic and fun to be around. Work & Travel Australia would be a great fit, because your independent nature is ready to explore a broad land that never runs out of new things to discover: kangaroos, surfing, (and no language barrier!). With your lust for adventure, in the land down under you'll never get bored.
Capricorn
Capricorns are high achievers. You are a master of self-control and are highly realistic. Since you tend to be more serious, you need a practical experience that will fulfill your desires that are built on a rock foundation. An international internship is your best-fit travel experience.
By Summer Schmier
Summer is the Summer 2018 social media intern. She's a published author and avid traveler.