Everything You Need to Know About Your 30-Day Travel Period
By Joy Lo
---
Are you coming to the end of your exchange program? It's time for one of the most eagerly awaited parts of your experience in the U.S.... your 30-day travel period!
Are you ready to explore the U.S. for 30 more days? Image courtesy of Crisley F.
What is my 30-day travel period?
Your travel period, also known as the 30-day grace period, is a 30-day window at the end of your exchange program when you're free to travel throughout the U.S. before you return to your home country.
What are the visa guidelines?
Pay close attention to the rules of your visa to avoid any complications.
The 30 day time period starts the day after your program ends.
You can find your program end date on your DS-2019 form.
You cannot work during this 30-day travel window.
You cannot travel internationally during this time since your visa and DS-2019 form are expired. If you leave the U.S. during the 30-day window, you won't be allowed to re-enter on your J-1 Visa.
Be sure to confirm that your departure flight to your home country is within the 30-day window.
Update your SEVIS dashboard with your plans.
Contact us with any questions or clarifications.
What should I do during my travel period?
It's up to you how you want to spend these last 30 days in the U.S. The sky is the limit!
Tie up any loose ends like receiving your last paycheck, closing your bank account, or getting a letter of recommendation from your host employer.
Reflect on and write down your most meaningful memories from your time on exchange.
Take photos with your colleagues and friends.
Take advantage of airfare sales, and be spontaneous about your destination.
Try a road trip, solo or with friends, through a national park.
Enjoy your last 30 days in the U.S.! Thanks for being a part of the InterExchange community and stay in touch.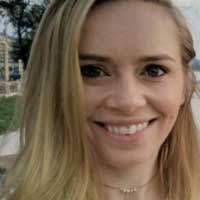 Joy Lo
Joy is a huge advocate for cultural exchange. She's lived across the U.S. and various countries around the world including the UK, Australia and Indonesia. She has a unique perspective on working and thriving in other cultures. She's been a contributing author on Au Pair USA program.