---
The History of Independence Day
---
2 minute read
The Fourth of July is a day many people associate with barbecue, fireworks, picnics, and family. However, these celebrations don't always convey the history behind the summer holiday beyond a celebration of "Independence"– but what definitively marked America's independence?
The official date coincides with the signing of a document called the Declaration of Independence. Addressed to King George III of England, the Declaration boldly announced the American colonies' desire to separate from British rule in order to become their own own nation. Representatives from each of the 13 colonies came together in 1775 for the Second Continental Congress in order to decide how best to make the transition towards unified nationhood.
Thomas Jefferson, a member of the Continental Congress who would eventually become the third president of the United States, was chosen to write the declaration. In an era before typewriters, this meant many drafts and remarkable penmanship. The document was finished by the summer of 1776, and and dated as complete on the July 4, 1776.
Some of the delegates of the Continental Congress signed the Declaration on July 4, but others did not actually sign the document until later that summer. John Hancock, who was president of the Continental Congress and later the first governor of the state of Massachusetts, famously signed his name larger than any of the other names on the page. Because of this, Americans often refer to a signature as their "John Hancock."
The British Empire rejected the Declaration, and chose to retaliate and engage in war with the American colonies for the next eight years. Despite the British response, July 4 is considered the birth date of the United States. Fortunately, Independence Day occurs during the warmest month in our summer and there are many outdoor events like picnics, or parades. The fireworks in the New York City harbor are even televised and broadcast throughout the country. Participating in a Fourth of July celebration in your U.S. host community is an excellent way to experience U.S. culture - we hope you will find something fun to do on July 4 to celebrate the birthday of the United States!
By Caroline Cocossa
Caroline is the Summer 2017 Communications Intern. Having studied Spanish Language and Communications at Fordham University, she found the perfect blend of her interests at InterExchange. She hopes to expand her travel experience and is gladly accepting recommendations.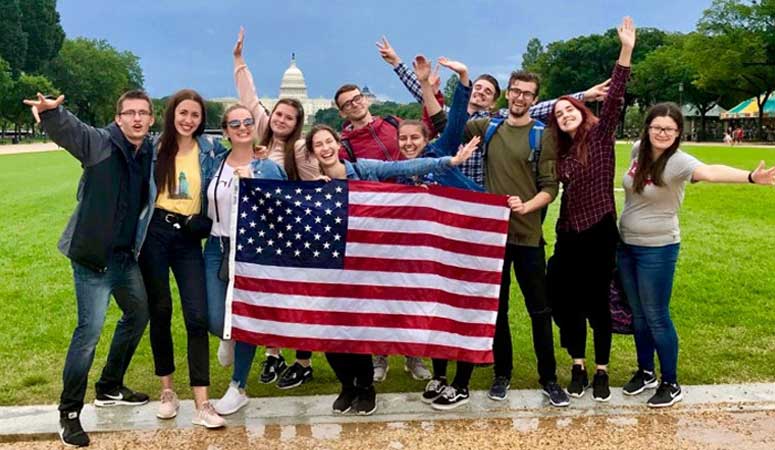 Experience American culture while working and exploring the USA
Sign Up
Learn More
Call Us