---
J Day Event Featured on Virginia Beach Beacon
---
1 minute read
InterExchange participants in Virginia Beach had a great time at our J Day event earlier this month and enjoyed the chance to give back to their host community and experience the uniquely American tradition of volunteering.
The Virginia Beach Beacon covered the event, and captured video of our students having fun while packaging meals for the hungry:
Although most international students had never volunteered before, they jumped right in, as Lee Belote, correspondent for the Beacon writes:
The students sanitized their hands, slipped on gloves and donned hair nets before starting an assembly line process to pack 10,000 meals. They scooped rice, soy, dehydrated vegetables and a vitamin mix into bags that were sealed, weighed and boxed.
Emmanuel Ambane, a volunteer from Virginia Beach Community Chapel, added a loud dose of excitement by banging a "gong" for every 1,000 meals packaged.
Music played in the background and conversations in different languages filled the room.
After packaging meals, our participants enjoyed a free dinner catered by Beach Bully BBQ and "ended with with corn hole and cultural bingo." Read the full article on the Virginia Beach Beacon.
By Ani Kington
Originally from Columbus, Ohio, Ani is a fan of exploring new places through photography and the local cuisine. After earning her BFA in photography from NYU and gaining communications experience at International Planned Parenthood Federation, she joined InterExchange in 2012, and worked as the Marketing Producer until 2016.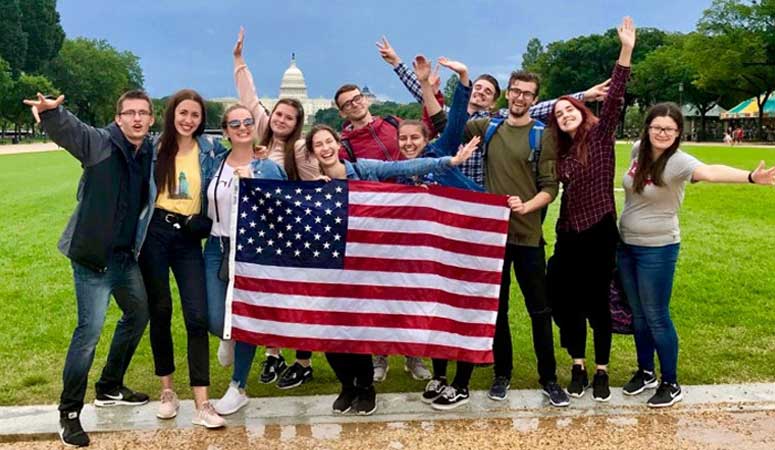 Experience American culture while working and exploring the USA
Sign Up
Learn More
Call Us