---
Celebrating J Day in Virginia Beach
---
1 minute read
On August 3, 2015, InterExchange joined a number of J-1 Visa sponsors across the country to celebrate J Day — a nationwide celebration of the power of international exchange.
International exchange participants across the country came together with their American hosts to share cultural diversity and American customs, to give back to their communities, and to have fun.
InterExchange partnered with Stop Hunger Now, a nonprofit organization with a mission to end world hunger, to give exchange students in the Virginia Beach area a unique opportunity to help save lives. During the J Day event participants came together with their Virginia Beach community to give back by volunteering their time and packaging meals for undernourished people globally.
William Sessoms, the Mayor of Virginia Beach, and John Uhrin, a member of the Virginia Beach City Council, joined J Day festivities and welcomed J-1 exchange students in Virginia Beach.
The J Day event was a lot of fun and helped everyone gain hands-on experience in leadership development, team building, relationship building, creative problem solving and goal setting. Exchange students and their American friends took fun pictures in the J Day photo booth and enjoyed themselves playing tennis and corn hole.
We packaged 10,152 meals for the hungry!
Our goal was to package 10,000 meals and our group exceeded it by packaging 10,152 meals, which now will be distributed to people in need worldwide. Our hard work was rewarded by a traditional American barbecue meal, laughter and lifelong memories that we created on J Day together!
We are grateful to the Virginia Beach Community Chapel for donating space for the event, to all volunteers from the Virginia Beach community who helped us set up the event space and to the Virginia Beach Beacon for covering the details of the event and spreading the word about the power of international exchange.
By Tanya Burovtseva
An international exchange alumna originally from Ukraine, Tanya started her career at InterExchange in 2011. Tanya is passionate about travel and cultural exchange and enjoys meeting J-1 exchange participants at InterExchange events.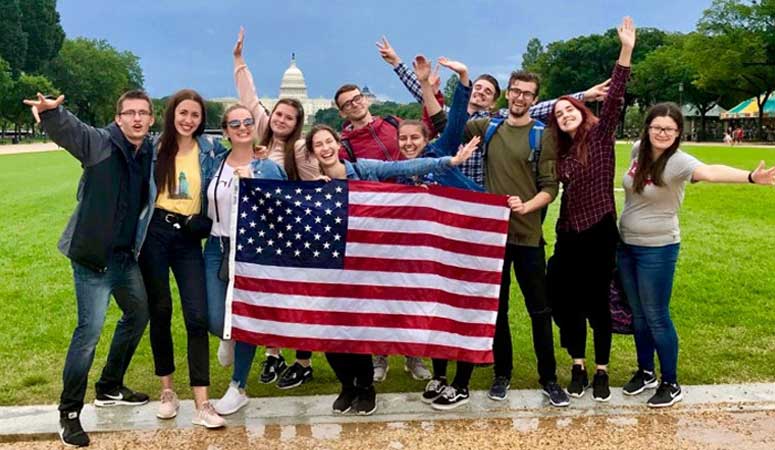 Experience American culture while working and exploring the USA
Sign Up
Learn More
Call Us