6 Ways to Stay Healthy in the Winter
By Joy Lo
---
In many parts of the U.S., October through March can bring much colder temperatures than what you're used to in your home country. Despite the chilly days and long evenings, this is a wonderful time of year to be in America!
There are so many new things to experience this season! Image courtesy of Unsplash.
One of your main goals during winter should be to stay healthy. Try these classic tactics to make the most of this time of year.
Start with the basics.
No matter the month, you should always try to eat healthy food and get enough sleep. These two things go a very long way in keeping you happy and physically well! Two other tips that are especially important for cold weather: dress in layers and consider getting a flu shot. The flu shot can help prevent you from getting sick, and it's an affordable option at most pharmacies. You don't need to see a doctor to get one.
Explore new ways to exercise.
Just because there's snow on the ground doesn't mean there aren't plenty of opportunities to get moving this season. If you have access to snow, try skiing, snowboarding, sledding, or snowshoeing. Remember to dress appropriately and stay dry.
There's also plenty of indoor options at your local gym. Drop by and see what fitness classes or machines it has to offer. Some indoor gyms in the U.S. are so big that they have swimming pools and running tracks!
Create a cozy home environment.
There's less daylight in fall and winter, which can negatively impact your mood. Counter this by making your living space extra welcoming. Add a soft blanket, twinkle lights, or a diffuser with essential oils. Brew a cup of cocoa and enjoy your relaxing evening at home as the snow falls outside.
Try new things.
Just because it's chilly doesn't mean there isn't plenty to do in your spare time. Many communities have festivals or parades that make this time of year simply magical. Another classic is attending an American football game; see if your American friends can take you to one. Reading a book, going to the movies, or tackling a personal project are always go-to's.
Plan a trip.
If you need a break from the cold, plan a trip to Florida or Texas or a cruise to the Caribbean. Cruises are the perfect way to see a new part of the world, and they are often affordable compared to your other travel options. Puerto Rico and the U.S. Virgin Islands, two popular cruise stops, are territories of the U.S., not separate countries. This means that you can visit them just like you would any other state in America. Check out our blog Traveling Outside The U.S. On Your J-1 Visa for more info.
Embrace it!
Whether you love the cold or can't stand it, you should make the most of your exchange experience, including the weather. Remember, these temperatures won't last forever, and when they're gone, you'll probably miss the beautiful falling snow. Not to mention, winter backgrounds make perfect Instagram posts 😉.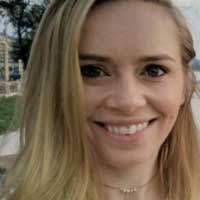 Joy Lo
Joy is a huge advocate for cultural exchange. She's lived across the USA, then moved overseas to London and Sydney. She currently resides in Jakarta, Indonesia, giving her a unique perspective on working and thriving in a culture not her own. Joy graduated from the University of Sydney with a degree in Marketing and started her career in the au pair industry. She works on the blog and social media for the Au Pair USA program.