To-Do Checklist to Wrap Up Your Exchange Program
By Joy Lo
---
You've explored a new country, adapted to unfamiliar situations, developed a variety of skills, and now your exchange program is coming to an end. Preparing to return to your home country doesn't take as much time as preparing to come to the U.S., but there are some key things to check off your to-do list before you go.
Your 30-day travel month is the perfect chance to spend time with the friends you made on program. Image courtesy of Pexels.
Plan Your 30-Day Travel Month ✈️
You have 30 days after your program end date to travel across the U.S. and make some more bucket list memories.
Map out your travel plans; the sky's the limit! Here are a few ideas to get you started.
Confirm your return flight is before your 30 day travel period ends.
Update the SEVIS dashboard with your plans.
Check the baggage allowances on your domestic and international flights.
Purchase additional health insurance for your extra month in the U.S.
Update Your Resume 💻
You've just gained a ton of international work experience, and it's time to tell potential future employers about it!
Refresh your resume and LinkedIn profile not only with your job but also with the skills you gained while on program.
Think of examples of how you grew or were challenged during your exchange so you can share them during interviews.
Ask your host employer (or Local Coordinator) for a letter of recommendation.
Take Care of Administrative Tasks ✅
Filing forms and paperwork isn't a fun chore, but it's important to wrap up your exchange program properly to avoid future headaches.
Cash any remaining checks.
Consider closing your bank account and other memberships.
Pay any outstanding medical bills or other bills you may have.
Keep all of your paperwork from InterExchange, like your completion certificate, and make digital copies.
Prepare for Filing Taxes ✈️
You'll need to file a U.S. tax return for every year that you earned money on an exchange program. We'll send you specific information about this, but here are some pointers:
Download and save your monthly bank statements before closing your U.S. account.
Leave a mail forwarding address with your host so that any important paperwork gets to you.
Look out for tax forms and tips from InterExchange by mid-February, 2020.
File your tax return by April 15, 2020. For more on this, read our post: How to File US Taxes as a J-1 Visa Holder
Interact with InterExchange 🎉
Be sure to keep in touch with us as you head back home!
Complete your end of program survey - we value your feedback!
Follow us on social media and tag us in pictures from your time in the U.S.
Refer your friends to InterExchange.
Email us in a few months to let us know what you're up to and share your alumni story.
Wishing you all the best on your next adventure!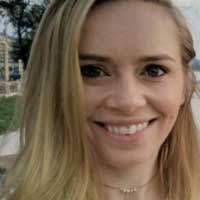 By Joy Lo
Joy is a huge advocate for cultural exchange. She's lived across the U.S. and various countries around the world including the UK, Australia and Indonesia. She has a unique perspective on working and thriving in other cultures. She's been a contributing author on Au Pair USA program.