BBC World News America recently interviewed InterExchange Work & Travel USA students during their summer jobs by the boardwalk in Santa Cruz, CA. The students, from Bulgaria, Macedonia, Greece and Serbia, talked about their reasons for participating in the work and travel program and their impressions of the United States including fashion, shopping, work and people.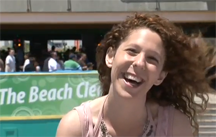 The students have had a great summer so far. Vasiliky from Greece said she has had a real taste of the American dream: "I just love America!" According to Casey from Serbia, the most striking thing about the U.S. is its diversity: "When you come here and experience the diversity first hand, it is just amazing." InterExchange is a U.S. Department of State designated J-1 Visa program sponsor of the work and travel program.
To watch the video, click here
Matthew Graves
A fan of independent cinema and proponent of the Oxford comma, Matthew began his career at a Miami-based tech startup before returning to West Virginia University to pursue his M.A. in Foreign Languages. He has worked at InterExchange since 2006 and currently serves as a Marketing Project Manager.