---
Calling All Work & Travel USA Spring and Summer 2011 Participants!
---
Enter The Work & Travel USA Photo Contest! You Could Win a $100 Certificate If Your Photo Is Selected.
A picture may be worth 1,000 words, but yours might be worth $100! That's right—it's time for the annual Work & Travel USA Photo Contest. We're looking for photos that best represent the wonderful world of working in the U.S. Send us your favorite photo of your everyday work experiences. Whether your photo shows you happily whipping up a latte, working a late shift with your favorite co-workers, or having a memorable interaction with an American customer—we want to see it! After all, there's nothing like a photo to show what Work & Travel USA is really like.
Have awesome pictures from your travel experiences within the United States that you also want to share? Submit those too! We are always looking for amazing pictures of the American landscape! Just make sure that you're in the picture!
Enter now! First prize is $100 value; second prize is $50 value.* Why not take your chance at winning?
To enter, email your photo to worktravel@interexchange.org. Make sure it is at high resolution (3 MB or higher, no more than 2 images per email) and includes your name, email address, and phone number. After all, if you're the winner, we'll need to know who you are!
Your picture will then be uploaded on InterExchange Work & Travel USA's Flickr page. Please make sure your entries are appropriate for public viewing. All entries will be edited for content.
All you have to do is create a free Flickr account and mark the pictures that are your favorites with a comment about why you liked that picture! The picture that is marked with the most "favorites" by October 30, 2011, will be the Work & Travel USA 2011 Photo Contest winner! That's it!
Make sure to submit your photos today. The earlier you enter, the more likely you are to win!
Can't wait to see your pics!
*All prizes are in the form of a $100 value gift card to one of the following retailers: Old Navy, Banana Republic, Sears
Matthew Graves
A fan of independent cinema and proponent of the Oxford comma, Matthew began his career at a Miami-based tech startup before returning to West Virginia University to pursue his M.A. in Foreign Languages. He has worked at InterExchange since 2006 and currently serves as a Marketing Project Manager.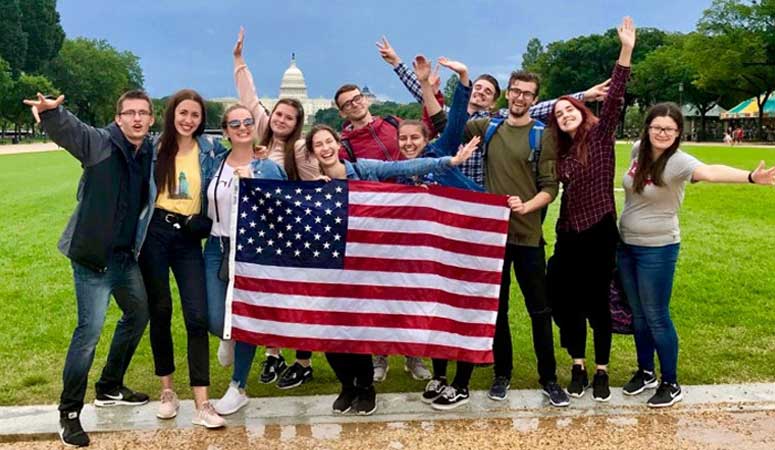 Experience American culture while working and exploring the USA
Sign Up
Learn More
Call Us