---
What is the Real Meaning of Halloween?
---
3 minutes
We love Halloween at InterExchange, and not just because there's candy everywhere in the office! We promise!
No one knows more about the significant role that Halloween plays in different cultures than Jeannette, the Compliance Officer of the Work & Travel USA program. Jeannette actually focused on Halloween's significance in the U.S. as the subject of her college dissertation. Incidentally, Jeannette's dog was also just featured in one of New York's major newspaper for his cute Halloween costume.
So Jeannette, tell us about the tradition of celebrating Halloween as well as how this tradition has been evolving over the years:
Halloween has different significance and names all over the world. Honoring the dead and creating festivities for them goes as far back as ancient Egyptian times. Egyptians would honor the dead by creating large pyramids and performing offerings led by priests.
The practice of offering gifts at tombs are not just a tradition from ancient Egypt, but also practiced in Mexico for "El Dia de los Muertos." On this special day, Mexicans gather at the cemetery with food and treats to celebrate with dead relatives. This doesn't just happen in Latin America.
Koreans make their gifts to dead consisting of rice and fruits. Their festival, "Chuseok," takes place at the beginning of fall, when the new harvest moon emerges. It gives them a chance to pay respects and show gratitude for the "fruits of their labor." China's celebration, Teng Chieh, is the most similar to Dia de los Muertos. Chinese place food and water next to lanterns, which will lead the way as they travel the dark night. The Chinese also build paper boats for the "Pretas," or spirits, who died in accidents (especially drowning), so that they can make it to heaven without being buried. Similar to the Egyptians, during Teng Chieh and Chuseok, special verses are recited during the offerings by spiritual leaders in temples.
There are also traditions that don't seem to have links to another culture, such as in the Czech and Slovak Republics, where chairs are placed by the fireplace, one for each living family member and another for their spirit. In Sweden, during Alla Helgons Dag, some people place flowers, candles and lanterns on graves at this time.
It is hard to understand these old traditions and their evolution without going back to the Celt's All Souls Day. During these festivities beggars would ask for food, and in return, promised to pray for that family's dead relatives. The pastries were called "soul cakes" and the national church preferred this, as opposed to the older traditions of leaving food/wine for roaming spirits. The older traditions also included wearing masks during this time period so that the ghosts would become puzzled and think people in costumes were also spirits.
Children began to adopt this tradition and visited houses to ask for money, ale or food. All Souls Day evolved into modern-day Halloween and has grown and spread, especially in the U.S.
Today, Halloween celebrations have lost most of its inherent meaning. Jack- O- Lanterns are appearing in countries where they've never been seen before and even UNICEF is collecting donations on Halloween. Who knows what people will be doing one hundred years from now to honor the dead?
What does your family do for Halloween? Does your country have a day to honor your ancestors?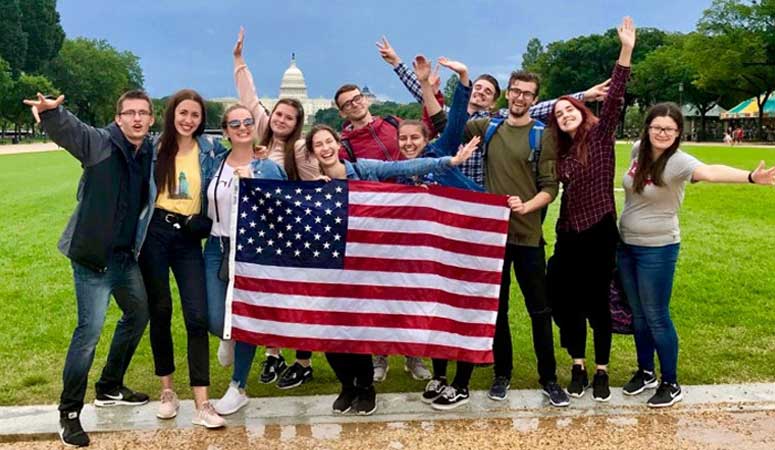 Experience American culture while working and exploring the USA
Sign Up
Learn More
Call Us