---
InterExchange Work & Travel USA Participant Goes to Washington—Oh, and Meets the President of the United States!
---
2 minutes
Summer 2011 was Surenkhorol's first visit to the United States. She had decided the year before that she wanted to have a life changing experience before completing university. "Where better to go than the United States?," she thought.
A native of Ulaanbaatar, the capital of Mongolia, Surenkhorol found employment in a major U.S. city, Washington, D.C. It seemed like an exciting place filled with opportunities to meet new friends, as as well as a chance to see where American legislation gets passed before it becomes the law of the land.
Little did she know that on the fateful morning of June 19th  - Father's Day -  as she clocked into work at a local restaurant, she was going to have one of the most unexpected experiences of her life.
It all started when, while making milkshakes in the back of the restaurant, Surenkhorol heard loud screams and lots of clapping. She had no idea what was happening and imagined that it must simply be someone's birthday.
Emerging with a strawberry milkshake for a customer, she finally realized the cause of the commotion. Surenkhorol immediately looked down to make sure that she was still holding the milkshake and that her feet were firmly planted on the ground, because right in front of her stood the tall frame of the President of the United States, Barack Obama!
He was busy placing his own order to her boss with a broad smile on his face.
Outside, the restaurant was completely barricaded off and there were secret service personnel standing guard both inside and outside the building. Feeling as if she were still in a dream, Surenkhorol found herself ringing up Sasha Obama's order.
After the president and his family finished their ice cream, President Obama came over to talk to the restaurant staff.  "Where are you guys from?," he asked in a good-natured way. Then he addressed Surenkhorol: "You are the only female employee here today," he said. "Yes," she answered, finally finding her voice. " On this shift."
"Where are you from?," he asked, interested as he heard her accent.
"I'm from Mongolia. I'm a student and it's my first time in the U.S.," she replied excitedly. Interested, he asked Surenkhorol, "On what program did you come to United States?" She replied, her voice finally falling into its normal cadence, " I'm a participant on the InterExchange Work & Travel USA program."
"Wow! So you are from Mongolia, your president was here last week, you know. And you are so young! It's great to have this type of experience so early in your life," President Obama said as he shook her hand.
Then all her coworkers posed for a picture with the president.
Not too shabby for Surenkhorol's second day on the job, huh?
Surenkhorol went on to have a great summer in the U.S and has already started making plans for her second summer on the program. Of course, nothing can come close to her surprising experience meeting the President, but she also credited the InterExchange Work & Travel USA program with helping her to become more independent and responsible as she successfully completed her first professional experience.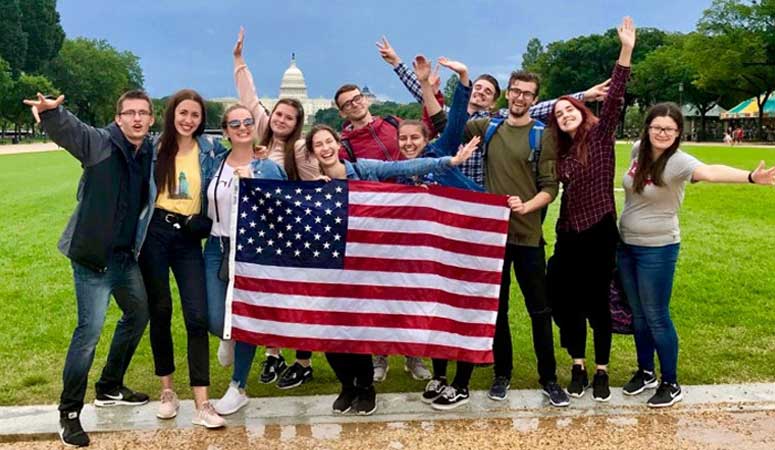 Experience American culture while working and exploring the USA
Sign Up
Learn More
Call Us