---
'Super Bowl Sunday: An Important Part of American Culture'
---
1 minute
Super Bowl Sunday has become an unofficial national American holiday! The Super Bowl is the championship game of the National Football League (NFL) and this year's Super Bowl XLVI (46) takes place in Lucas Oil Stadium in Indianapolis, Indiana on February 5, 2012. This final game is a face-off between our hometown New York Giants and the New England Patriots. If this is your first Super Bowl game, then here are some fun facts and tips for watching this Sunday.
Do you have a hard time following all of the players on the field? Here is an easy way to keep track of your favorite team:
Look for jersey numbers
All players have a number that indicates their primary position. However, some players are allowed to keep their jersey number even if they change positions.
1 - 19 for quarterbacks and kickers
20 - 49 for running backs and defensive backs
50 - 59 for centers and linebackers
60 - 79 for linemen
80 - 89 for wide receivers and tight ends
90 - 99 defensive linemen and linebackers
Centers may also be assigned numbers up to 79
Even if you don't have an inkling of how the game is played, watching the commercials and advertisements can hype anyone up for the Super Bowl. During the game, advertisers pay up to $2.8 million for a 30-second spot. Famous directors are hired to create the ads, which often become viral online videos. The ads are then viewed by millions of people around the world.
Fun facts
Football players follow an extensive regimen of fitness classes that may include yoga, Pilates, ballet and tap dancing. No wonder a 250-pound male can be so nimble on his feet!
2011's Super Bowl attracted over 111 million viewers.
Super Bowl Sunday is the second-largest day for U.S. food consumption after Thanksgiving. Popular dishes are Buffalo wings, hero sandwiches, chips, dips, soda and pizza.
Ani Kington
Originally from Columbus, Ohio, Ani is a fan of exploring new places through photography and the local cuisine. After earning her BFA in photography from NYU and gaining communications experience at International Planned Parenthood Federation, she joined InterExchange in 2012, and worked as the Marketing Producer until 2016.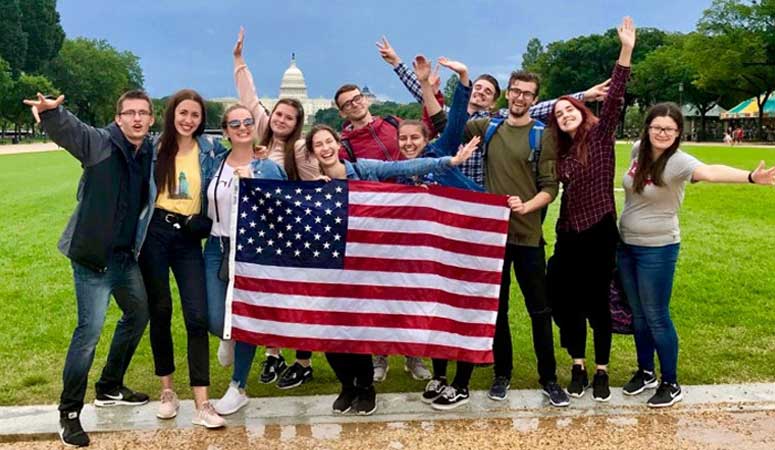 Experience American culture while working and exploring the USA
Sign Up
Learn More
Call Us