---
Lake George Food Drive and Community Event
---
2 minutes
At the lunch hosted by InterExchange, Jill Harrington, the Executive Director of the North Country Ministry (NCM), thanked the international students for helping solicit donations for NCM and recognized the importance of cultural exchange for both the Lake George community and for Americans interested in going abroad to learn about other cultures and countries.
Work & Travel USA international students, host employers and other members of the community attended to deliver their collected donations and spend time with their peers and colleagues from Lake George.
By working with InterExchange Work & Travel USA, international students visiting the U.S. on a cultural exchange program have found a new way to engage with their host community in Lake George, New York, this summer.
Jill Harrington (2nd from left), Executive Director of the North Country Ministry, with InterExchange Work & Travel USA students from Serbia, Poland and Kazhakstan
"Our student participants have always been interested in ways to find out more about their local communities as a way of learning about American culture," says Casey Slamin, Program Director of the InterExchange Work & Travel USA program. "By organizing this volunteer food drive with the North Country Ministry, local area employers and area leaders, we've helped our students enjoy an activity that benefits local residents who are in need, and interact with Americans who have the same philanthropic interests."
During the food drive, InterExchange Work & Travel USA students helped collect thousands of food donations for NCM.  These donations will go toward feeding individuals and families in need in the Lake George community.
Executive Director of North Country Ministry Jill Harrington, host employer Bill Wilson, local librarian Marie Ellsworth, and North Country Ministry Volunteer Coordinator Barbara Neubauer
This volunteer project helped introduce students to the idea of volunteer service and giving back to the host community.  It also allowed community members to meet the work & travel students and further understand the benefits of cultural exchange and the value of having international visitors become part of the daily life of the town for the summer.
Ani Kington
Originally from Columbus, Ohio, Ani is a fan of exploring new places through photography and the local cuisine. After earning her BFA in photography from NYU and gaining communications experience at International Planned Parenthood Federation, she joined InterExchange in 2012, and worked as the Marketing Producer until 2016.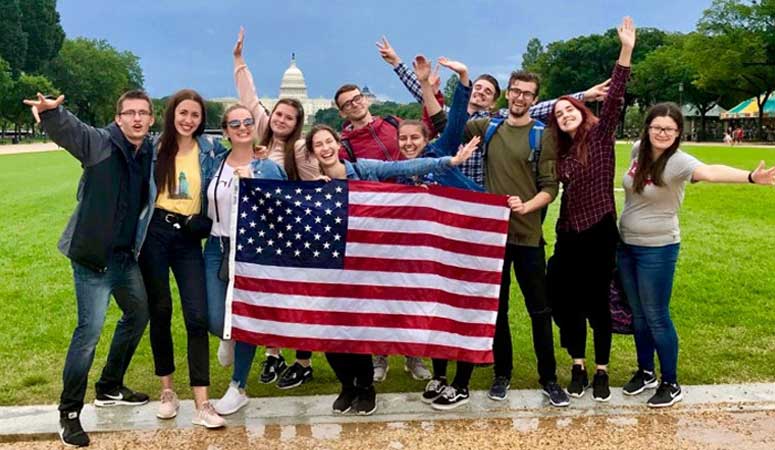 Experience American culture while working and exploring the USA
Sign Up
Learn More
Call Us