---
Take Me Out to the Ballgame...
---
1 minute
InterExchange Work & Travel USA participants recently had the chance to enjoy a truly American experience: attending a baseball game. For most, it was the first baseball game they had ever seen firsthand.
A Work & Travel USA participant holds her new baseball as the Staten Island Yankees play at the Ballpark at St. George field in Staten Island.[/caption]
In New York, over 30 international students joined InterExchange staff members to watch the Staten Island Yankees play the Aberdeen Ironbirds on July 17th.
While traveling to the game together on the Staten Island Ferry, the group enjoyed views of the Statue of Liberty and downtown Manhattan skyline on a beautiful summer night. After settling into the stadium, Work & Travel participants ate an American barbeque dinner as they cheered on the S.I. Yankees.
Tomasz Pukowski shows off his new baseball signed by Harbor Hawks players.[/caption]In Cape Cod, 25 students and two host employers attended the Hyannis Harbor Hawks game on August 2nd. InterExchange participant Tomasz Pukowski threw the first pitch of the game—not bad for someone who'd never thrown a baseball before. Harbor Hawks players made the deal even sweeter by signing Tomasz's baseball.
At both events, students were encouraged to learn the basic rules of the sport, eat some traditional American ballgame food, and even sing "Take Me Out to the Ballgame."
InterExchange participants formed a sea of orange as they cheered on the Staten Island Yankees in their Work & Travel t-shirts.[/caption]
InterExchange Work & Travel USA participants and staff had a great time cheering on both teams, along with hundreds of local fans.
Organizing such traditional American recreation is just one of the ways InterExchange helps international visitors engage in fun, cultural learning experiences during their time in the U.S.
Ani Kington
Originally from Columbus, Ohio, Ani is a fan of exploring new places through photography and the local cuisine. After earning her BFA in photography from NYU and gaining communications experience at International Planned Parenthood Federation, she joined InterExchange in 2012, and worked as the Marketing Producer until 2016.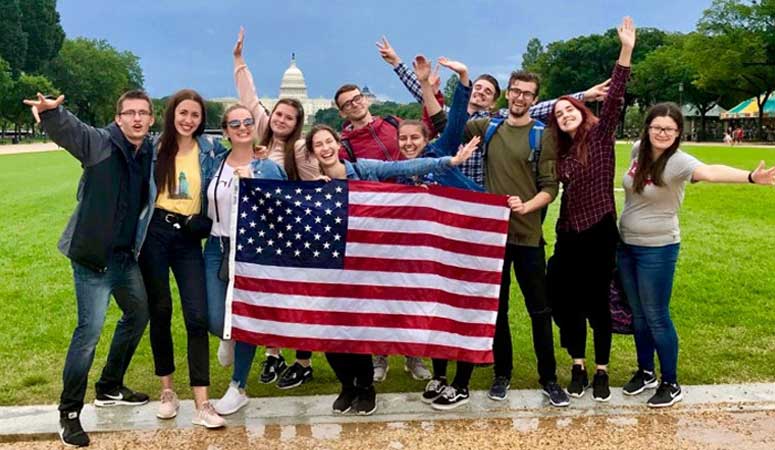 Experience American culture while working and exploring the USA
Sign Up
Learn More
Call Us