---
The Beginning of Fall…and Football!
---
2 minutes
As our Summer Work & Travel participants head home and the weather begins to cool down, it's easy to feel the change of seasons coming--a welcome change that brings back scarves, hot coffee, and America's favorite pastime, football.
As a sport that is only played in the U.S., it's easy to see why most of our Work & Travel participants are unfamiliar with the sport. We could attempt to explain the basics of the game in this post, but well, that would be boring. Instead, we'll attempt to explain the culture surrounding it (although, like most foreign cultures, it is best understood when experienced firsthand!).
The first football game was played on November 6, 1869 between Rutgers and Princeton, two universities in New Jersey. Since then, it has evolved into a multi-billion dollar industry on both the collegiate and professional levels and has become a big part of American culture.
Played mostly on the weekends, football games easily take up an entire day. One hour of playing time usually translates into 4 hours of game time, and that's not including the hours (and hours) of tailgating beforehand. "Tailgating" is when fans arrive to the game early to grill and drink with friends in the parking lot outside of the game. Tailgating usually includes a plethora of hotdogs, hamburgers, and, ahem, the adult beverage of your choice if you are over 21. Some fans opt for a more low-key experience, heading to their favorite local bar to support their team or watching with family and friends in the comfort of their homes. Either way, if you're a football fan, your fall weekends are booked.
After 17 weeks of games, the play-offs begin, ending in the championship game, the Super Bowl. For the past three years, the Super Bowl has been the most watched television broadcast ever, meaning for the past three years more people have watched the Super Bowl than any other programming in the world. Last year, the Super Bowl has 111.3 million viewers! Who did they watch win, you ask? Our very own New York Giants!
Want to throw a tailgate party of your own? Make sure you include InterExchange's favorite tailgate food, Chicken Wing Dip!
Ingredients
2 (8 ounce) packages cream cheese, softened
3/4 cup hot sauce
1 cup Blue Cheese or Ranch Dressing
2 cups diced cooked chicken
1 cup shredded Cheddar cheese
Preheat the oven to 350 degrees F (175 degrees C).
In a medium bowl, stir together the cream cheese and hot sauce until well blended. Mix in the Blue Cheese dressing, chicken and Cheddar cheese. Spread into a 9x13-inch baking dish. Sprinkle cheddar cheese on top as desired.
Bake for 20 - 30 minutes in the preheated oven. If oil collects on the top, dab it off using a paper towel. Serve with tortilla chips.
Enjoy!
Ani Kington
Originally from Columbus, Ohio, Ani is a fan of exploring new places through photography and the local cuisine. After earning her BFA in photography from NYU and gaining communications experience at International Planned Parenthood Federation, she joined InterExchange in 2012, and worked as the Marketing Producer until 2016.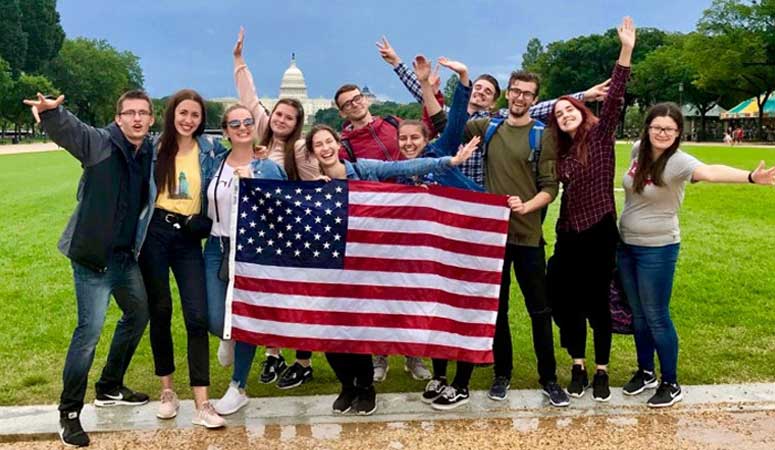 Experience American culture while working and exploring the USA
Sign Up
Learn More
Call Us