---
Want a More Diverse Team This Summer? InterExchange Recruits From More Than 60 Different Countries!
---
1 minute
Perhaps the best part about hosting international students is the cultural diversity it adds to the workplace. Host employers and their American staff members can learn about other countries and cultures without even leaving town! It's a great way to inspire interest in different parts of the world and even pick up a few phrases in Turkish, French or Russian. International students who live, work and travel in the U.S. during their university breaks also enjoy the opportunity to learn about American culture, not only by being immersed in it, but by speaking English and interacting with their American employers, co-workers and clients.
A diverse workplace benefits everyone involved. According to a study by Ryerson University, "The more diverse a company's workforce is, the more loyal, happy and productive its employees tend to be". So if you're looking to improve productivity and boost morale at your business, hiring through InterExchange could be the answer! Our students come from more than 60 countries: summer staff are generally visiting from Northern Hemisphere countries and winter staff usually come from Southern Hemisphere countries.
Summer 2013 hiring is already well underway, so if you're interested in adding some new enthusiasm and cultural diversity to your team this summer while meeting your peak season staffing needs, get started now by completing an Employer Inquiry Form or learning more.
Ani Kington
Originally from Columbus, Ohio, Ani is a fan of exploring new places through photography and the local cuisine. After earning her BFA in photography from NYU and gaining communications experience at International Planned Parenthood Federation, she joined InterExchange in 2012, and worked as the Marketing Producer until 2016.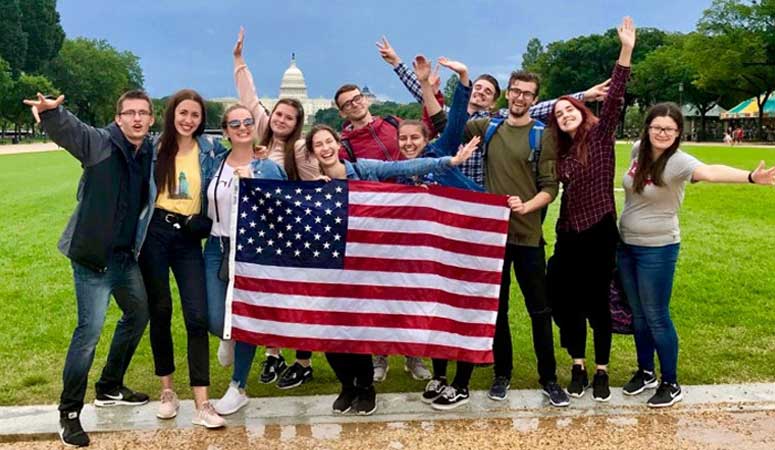 Experience American culture while working and exploring the USA
Sign Up
Learn More
Call Us