---
Dealing With Summer Allergies
---
2 minutes
By Ross Mason
As a host employer with InterExchange Work & Travel USA, your business is likely enjoying increased diversity and enthusiasm due to the addition of international team members. As participants adjust to life in the U.S., they may also be adjusting to the plants and pollens that are unique to our country.  As a result, allergies they haven't had to deal with before may emerge. Being aware of this and being prepared to help them manage their allergies can help maintain your staff members' health and happiness.
As the summer months hit, the number of allergy sufferers greatly increases, mainly due to the higher levels of pollen in the atmosphere from all the blooming flowers and plants. For international students coming to a new country, the weather and environment are just another part of the adaptations they'll need to make.
Allergens vary throughout the world because of the wide range of weather patterns and vegetation, among other factors. Because the USA has such diverse climates, flora and fauna, depending on where your business is located, participants could be affected by different things.
However, with the correct planning and preparation - you can help make sure allergies do not disrupt your business or your participants' time with you. Here are a few helpful tips to get you and your team through the summer allergy season:
If participants suffer from allergies back home, then they will most likely suffer when visiting the U.S., but perhaps not to the same extent. Therefore they will need to make sure they have the necessary medications. If a student generally only requires over the counter medication in his home country, he should still check to see if those medications are available over the counter in the U.S. If not, he should bring a supply for the season. If international students are on prescribed allergy medications, they will need to fill prescriptions prior to leaving their countries to make sure they have enough medication. Insurance will not cover participants' medication abroad if they have an existing condition.
Should students develop a new allergy while abroad, the first stop should be to the local pharmacy. A pharmacist can help select over the counter medication that will address most symptoms. Because accident & sickness insurance doesn't cover a doctor visit for allergies alone (unless the allergy is severe), it's best to find a safe treatment using over the counter medications.  To find more natural summer allergy remedies, we recommend this excellent article from Mother Earth News which profiles six natural allergy remedies that could help.
Another tip that works for many people to beat summer allergies is to consume local honey. Local honey will contain most of the main allergens in a particular area because of the bees who gather pollen from local flowers and plants. Exposure to local honey has been known to build up tolerance to allergens and can often help those suffering from summer allergies.
Although uncomfortable, summer allergies do not tend to last too long, so hopefully these tips will help you and your staff to effectively manage allergies and make the most of your cultural exchange experience.
Ani Kington
Originally from Columbus, Ohio, Ani is a fan of exploring new places through photography and the local cuisine. After earning her BFA in photography from NYU and gaining communications experience at International Planned Parenthood Federation, she joined InterExchange in 2012, and worked as the Marketing Producer until 2016.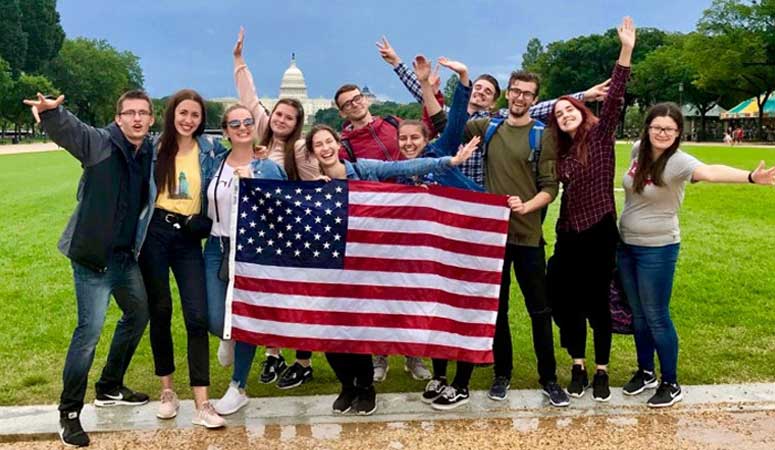 Experience American culture while working and exploring the USA
Sign Up
Learn More
Call Us