---
What Makes You a Cultural Superhero?
---
5 minutes
Last year we asked InterExchange participants to answer this question in the form of a video, photos, essay or drawing. While our winner, Yuting Ye, submitted a fantastic video, we also received some stellar essay entries. Below are some of our favorite quotes from the essays. Tell us in the comments— what makes you a cultural superhero?
"During this trip, you can meet people all around the world, from America, France, Jamaica, Poland... and for now I have friends from all these countries, wonderful!!!
And one of my roommate, Nora, she is from Outer Mongolia and she says we are always welcomed at her hometown." —Yi W., participant from China
"My life before the trip was like a bubble, which I only came out when it suited me, once there, I opened my eyes and saw life, with difficulties, with its joys and sorrows, I knew the routine, and for a time, I was a bomb exploding here and there, learning, trying, making mistake by mistake, and trying again, because as much as I would like to run to the safety of my family and  friends  I was there to learn and live to the fullest. ...I have given my all, I fought, I laughed, and the most important of all... I learned. I did the crash course in life, and I loved every second. If I could live again, I would do it a thousand times." —Liza M., participant from Paraguay
"I taught them as much as I could even I showed them my traditional dance and once we enjoyed altogether. The most interesting thing that I am proud of is that I taught the guys at work uzbek way of greeting as they used to say "Assalomu alekum oshna" (hello buddy). I feel very happy satisfied when they say it to me every morning. At least they will know something about me and my country. But most importantly, I want to share my funniest experience with clams. As I told you I used to clean clams every morning as a part of my work, and I thought clams are just stones until one of them bite me. Yeas, for the uzbek guy who have never seen it it seemed as a stone but actually I found out that they are alive. And now I know that if you approach them they close their mouth as if they are shy." —Quldashev I., participant from Uzbekistan
"My attitude changed 4 days ago, when I first participated in of their [fishing] trips – I understood that it is not fun, I understood that this is their passion. Their life! Believe me or not but you simply cannot find words to describe their devotion, that amazing glints in his eyes while being on board and holding a rod. In that moment I realized that I am a part of something big. That I am a part of unique culture – of Cape Cod's fishermen culture who spent thousands of hours on water because they were literally raised on boat. Thanks to my boss I saw whales, dolphins and seals – animals that I simply cannot see in my country, in Poland, I have experienced the feeling of riding 35 mph on the waters of Atlantic Ocean and many more, but what is still most important I have met and seen in action the most passionate people ever. That day definitely changed my way of perceiving many aspects of the world and that is the most important super power for me." —Kamil J., participant from Poland
"By having chance to work at the United States for three months, I was not only given a chance to earn some extra money, but I was given an experience to see the world from a completely different perspective; perspective that is very inspirational and motivational ! Yes, I have to admit that no country has ever inspired me as much as had the United States. No country has ever motivated me to do art differently and better, more comfortably and powerful. I have to say that it was totally worth it to be a hero to come to the United States on my own because this country has to show something that nowhere else can be seen. It was excellent to gain an experience to improve fluency in English language, meet different people, but most importantly, it was great opportunity for me as an artist to develop the power of art, the power I developed inside of me by being here. I do not call it just an experience; I call it a super power because I feel like now I see the things in new perspective and my way of expressing  art became much more noticeable as well." —Natalia K., participant from Slovakia
"Everybody was smiling at her, asking: "How are you?" The nature amazed her, the high mountains, wild forests, rivers and fairy houses with cute flower gardens and huge open spaces. She found the American food very delicious, but also unhealthy. She tried American hot dogs, pancakes with maple syrup, hamburgers, grilled cheese sandwiches, mac and cheese, marshmallow, peanut butter with jelly, tapioca pudding, corn dogs, cherry pie, cookies and spice peppers. The little girl saw a lot of chipmunks and squirrels running up and down, more than in her country. And she also heard about bears, but fortunately she saw them only in a circus. The little girl travelled in limousine to Montreal with her new British friends; visited the beach in Portland; went on a special train to the top of Mount Washington; visited amusement parks, and waterparks, and at the end of her summer planned to visit Boston, New York and Washington. For the little girl, the most beautiful thing in this land was that she met a lot of different cultures and that's why her summer was amazing. The international students and American citizens made one big family; they had trips, dinners and bonfires together, which made it more exciting." —Estera B., participant from Slovakia
Ani Kington
Originally from Columbus, Ohio, Ani is a fan of exploring new places through photography and the local cuisine. After earning her BFA in photography from NYU and gaining communications experience at International Planned Parenthood Federation, she joined InterExchange in 2012, and worked as the Marketing Producer until 2016.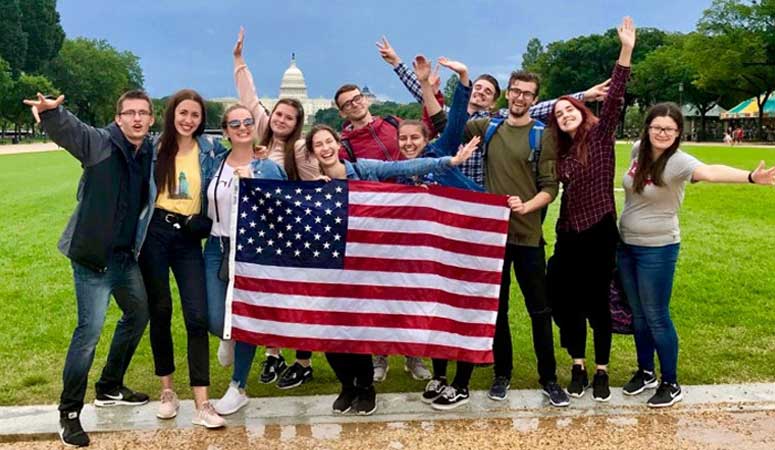 Experience American culture while working and exploring the USA
Sign Up
Learn More
Call Us