---
Work & Travel USA Participants Visit U.S. Navy Memorial in D.C.
---
1 minute
InterExchange Work & Travel USA participants and staff, Amanda Polychronis, Production Chief of the D.C. Navy Band, and Danielle Loewy, Director of Events at the U.S. Navy Memorial & Naval Heritage Center[/caption]
On August 13th, 2013, the InterExchange Work & Travel USA team hosted a cultural event in Washington, D.C. at the U.S. Navy Memorial and Heritage Center. This free tour was a great opportunity for international students to learn about the history and heritage of the men and women of the United States Navy, while also exploring the capital city.
Just off the Memorial plaza, participants enjoyed informative interactive exhibits in the Gallery Deck. The Media Resource Center also provided a library of printed, audio and video historical documents on the U.S. Navy Memorial and Heritage Center. The Navy Log room even had touch-screen kiosks to register and search for Sea Service members and veterans. Inside the Navy Burke Theatre, students watched a short film about the U.S. Navy and maritime strategy around the world.
Students were given name wordpress_tags, t-shirts, wristbands, bike lights and lunch vouchers to Potbelly Sandwich Shop.[/caption]
After the U.S. Navy Memorial and Heritage Center tour, students were given a map of D.C. and enjoyed a self-guided walking tour of the capital before the free concert by the Navy Band.
At 7:00 p.m., participants took their seats for the Navy band concert. The Navy ensemble sang songs from around the world including songs by Shakira and the 'Circle of Life' from "The Lion King". InterExchange participants were highly impressed by the ensemble and were especially excited to see the Color Guard give a Navy drill team demonstration and 50-state flag presentation.
Participant with her D.C. walking tour map[/caption]
Work & Travel USA participants had a great time and were thankful for the experience.
Ani Kington
Originally from Columbus, Ohio, Ani is a fan of exploring new places through photography and the local cuisine. After earning her BFA in photography from NYU and gaining communications experience at International Planned Parenthood Federation, she joined InterExchange in 2012, and worked as the Marketing Producer until 2016.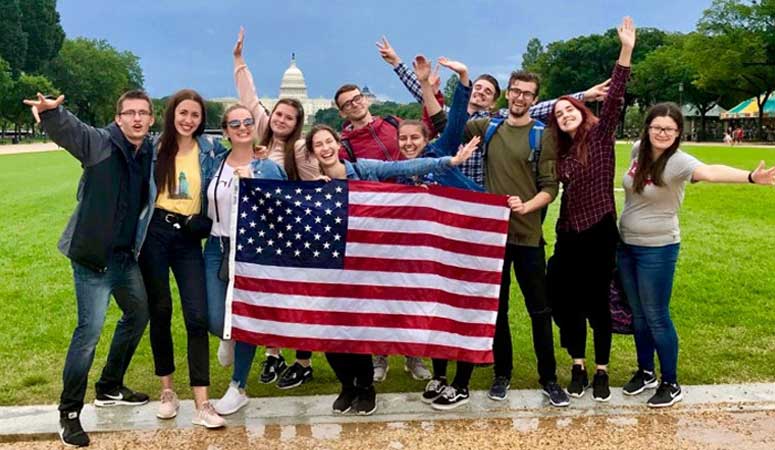 Experience American culture while working and exploring the USA
Sign Up
Learn More
Call Us