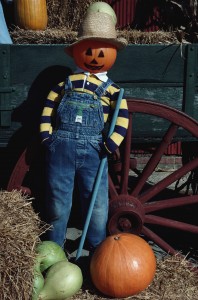 We're right in the middle of October, which means fall is here! And there are many autumn activities and events that can be great cultural exchange opportunities for international participants in the United States. Here are some suggestions of ways Work & Travel seasonal staff can experience U.S. culture during the fall season. These ideas could work for both summer staff at the end of their season, or as welcoming activities for winter staff.
Go apple picking! If it's available in your area, local orchards and farms usually offer fruit picking and fun fall  events like hayrides, corn mazes and seasonal treats like candy apples, pumpkin pie, apple cider and more.
Visit a pumpkin patch: International visitors can have fun picking their own pumpkin then going home and carving or decorating a jack-o-lantern – a favorite fall activity!
Have a Halloween party! Show off this fun side of U.S. culture to your international J-1 staff. Encourage employees to wear their best costumes and offer prizes for best dressed, get staff to help with Halloween decorations, and serve fun Halloween snacks.
Find a local hiking or walking trail and see the leaves change while it's still warm enough for a nice walk outdoors. Our Cultural Compass guide provides Outdoor Activities and information on state parks for all 50 states!
Catch a football game. Fall isn't just associated with pumpkins, changing leaves and apple picking – it's also the start of football season! Find out information on any local high school, college or professional football games and share this favorite U.S. sport with international staff. Work & Travel staff can also have organizing a game of flag football in the park with staff and friends.
Check out our Work & Travel blog for international students for more ideas about Traditional Fall Activities.