---
Work & Travel USA Participant From Macedonia Shares Her Experience
---
2 minutes
Ljupka J., a former Work & Travel USA participant from Macedonia, shares her experience and memories from the program along with tips for future participants. Please note the following blog post is only one participant's perspective.
[Differences] Between Balkan and American lifestyle!
After I spent two successful summers in USA as part of the InterExchange program- Work & Travel USA, I feel free to say: Period that changed my views on life and made me more self-confident.
Working, traveling, making friendships...simple living in America for 5 months, where enough to get familiar with the American lifestyle (totally different from the lifestyle where I come from) which is why I am going to point those differences.
We definitely have different values.
Americans identify themselves with their work, Balkans with politics!
Americans value time like money, here time is no money!
They like you to be on time (if you are not on time they will think that something happened to you), here no one coming on time!
They are individualist and with their honesty, if you are not used to it, can make you feel not good. This is not usual in Balkans...here they will lie to you first than tell you the truth.
Individuality-it is not only in the movies but 16years old teenagers are moving away from home and their parents and starting their own battle with the life-totally not existing situation on the Balkans- here people would say: "It is only in the movies". They are staying at the parents' home as more as they can, approximately until 30-35 years old!
Americans are eating in restaurants (rich ones are going in the fine restaurant and the poor one are regular guest of the first food ones). On the Balkans you barely go into restaurant at lees if there is not any special occasion…Why to go when you can cook it at home.
There, it is not important from where r u coming from-on the Balkans it is too important if you are coming from the capital or from small town in the country side.
Entertainment - American don't have time for movies they are living the movies...
The averages Balkans are too occupied with soap operas.
Interests and free time - Americans are exploring in what they are the best, Macedonians are too busy with the others lives.
American are not very interested of the "Others life"-Here on the Balkans even know the name of the dog of the congressman, favorite brand of the president's wife!!
At the end I would say, we live in totally different worlds, I believe the situation is the same in many other countries around the world. So, I would definitely recommend you to go in USA and see how the people live their lives there.
Tips from me: If you have a dream of America then find InterExchange office in your area, prepare your documents, go and get your visa, take a plane and.....welcome in US… you can live your American dream...and yeah...go to Nantucket, enjoy the most gorgeous and romantic sunset ever seen!
—Ljupka J., Macedonia
Ani Kington
Originally from Columbus, Ohio, Ani is a fan of exploring new places through photography and the local cuisine. After earning her BFA in photography from NYU and gaining communications experience at International Planned Parenthood Federation, she joined InterExchange in 2012, and worked as the Marketing Producer until 2016.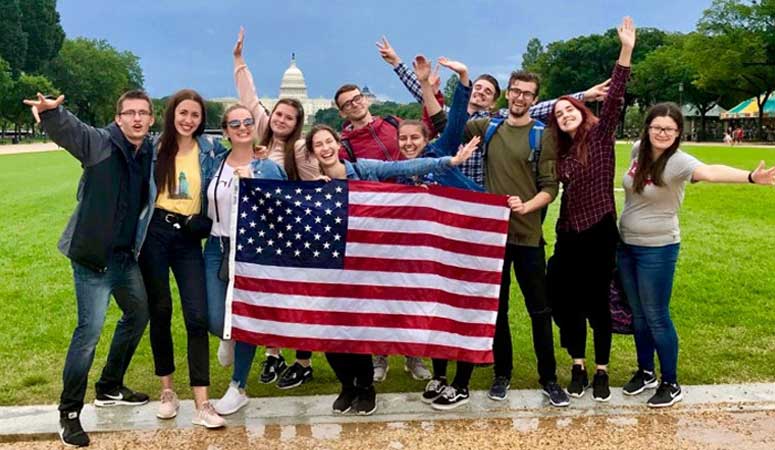 Experience American culture while working and exploring the USA
Sign Up
Learn More
Call Us