---
Work & Travel USA Participants Experience Guided Snowshoe Hike
---
1 minute
Work & Travel USA participants excited for the hike[/caption]
International students from Paraguay, Argentina and Brazil were joined by InterExchange staff for an exciting cultural activity at the top of Northstar Mountain in Lake Tahoe, near Truckee, California. 24 participants from the InterExchange Work & Travel USA program enjoyed a 2-hour moonlight snowshoe hike through the historic Tahoe National Forest. This event was one of several cultural learning opportunities InterExchange provides as part of its programs. The evening was hosted by InterExchange and the Ritz Carlton, Lake Tahoe, a local business that has welcomed international students to join its seasonal team for many years.
Participants were led through snowy trails lit by the moon![/caption]
Certified trail guides led the group around the highest trails of the mountain as the nearly full moon rose to light the snowy paths. The hike started at 7,300 feet above sea level and rose to almost 9,000 feet, so everyone got good exercise while guides educated the group about local history, flora and fauna, geology and environmental initiatives in the Tahoe area.
Students were able to ask questions throughout the event, and were happy to learn more about the culture and history of their host community. After the hike, participants gathered around a fire to play group games and discuss their experience. A free pizza dinner was served at the Ritz-Carlton conference center for all attendees. Everyone had a fun, invigorating and educational evening!
Warming up by the fire after the hike[/caption]
Ani Kington
Originally from Columbus, Ohio, Ani is a fan of exploring new places through photography and the local cuisine. After earning her BFA in photography from NYU and gaining communications experience at International Planned Parenthood Federation, she joined InterExchange in 2012, and worked as the Marketing Producer until 2016.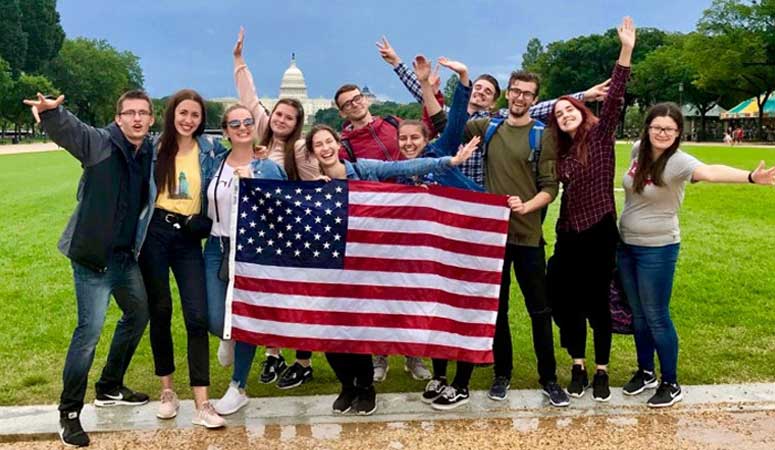 Experience American culture while working and exploring the USA
Sign Up
Learn More
Call Us