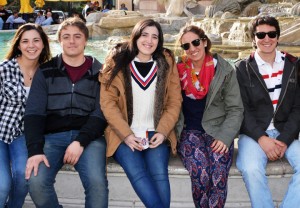 Registration for the InterExchange Work & Travel USA International Recruitment Tour to Argentina and Paraguay is now open! Visit one or both countries while recruiting international student staff to support your peak winter season. The tour starts July 28, 2014. For tour itinerary or to request more details, visit www.InterExchange.org/south-america-winter2014.
During the tour you will:
Enjoy a firsthand experience of the cultures of your future student staff members.
Meet and conduct one-on-one interviews with pre-screened candidates.
Network with industry peers and expand your international contacts.
All expenses covered for employers recruiting 15* or more international students during the tour.
Limited number of spaces available.
Sign up today and start planning for your next peak season!
Interested in general winter hiring or last minute summer hiring? Explore our program options!
Ani Kington
Originally from Columbus, Ohio, Ani is a fan of exploring new places through photography and the local cuisine. After earning her BFA in photography from NYU and gaining communications experience at International Planned Parenthood Federation, she joined InterExchange in 2012, and worked as the Marketing Producer until 2016.