---
Irish Night at the Padres' in San Diego
---
1 minute
On Saturday, July 19th, Irish J-1 Work and Travel USA participants based in Southern California were able to take part in the most American of pastimes. Over 400 Work and Travel USA participants descended on Petco Park for "Irish Night at the Padres", an annual event hosted by Irish Outreach San Diego, an Irish cultural organization based in San Diego that provides support for Irish nationals in the area, both long term and short term.
The J-1 visa agencies co-sponsored the event and subsidized the ticket price for many J-1 participants. For the price of $12, Work and Travel participants were able to take in a day at ballgame, and everyone received Padres starting pitcher Andrew Cashner jerseys as a souvenir giveaway at the game.
Participants filtered in over the first few innings, many coming straight from their Summer Work and Travel job, and were treated to a 6-0 romp of the New York Mets by the hometown Padres. InterExchange staff on hand gave out brochures about the rules of baseball and the lyrics to "Take Me Out to the Ballgame", since many participants were attending their first baseball game. The participants will have great stories to relay to family and friends about a day at the park, American style.
Ani Kington
Originally from Columbus, Ohio, Ani is a fan of exploring new places through photography and the local cuisine. After earning her BFA in photography from NYU and gaining communications experience at International Planned Parenthood Federation, she joined InterExchange in 2012, and worked as the Marketing Producer until 2016.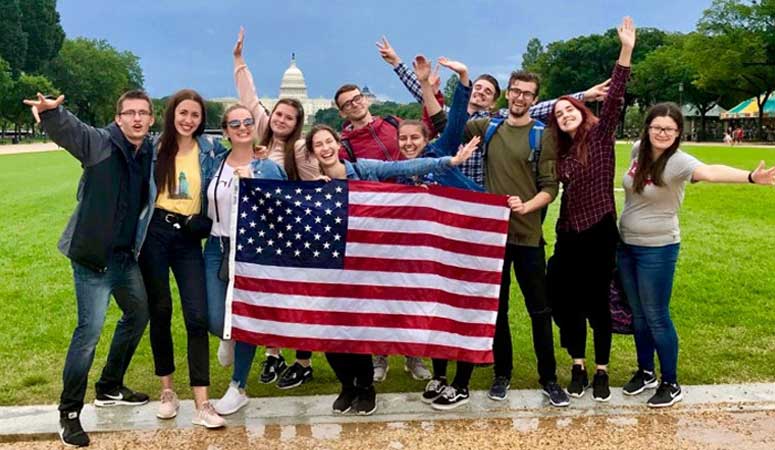 Experience American culture while working and exploring the USA
Sign Up
Learn More
Call Us