---
Breaking Down Stereotypes Through Cultural Exchange
---
2 minutes
is often poorly understood abroad.
Sixteen-year-old Maria Kiptea of Bangladesh came to the U.S. uncertain of what she would find, the Statesman Journal reports. Many people from her country espouse a fairly negative opinion of the U.S, but Maria realized that these opinions were formed mainly from a variety of stereotypes and bits and pieces of popular culture that made it to her country. The common "sex, drugs and rock and roll" image of U.S. pop stars is hardly representative of the entire country.
Maria chose to take the opportunity to come to the U.S. through a program the Department of State created in the wake of the September 11th attacks, the Kennedy-Lugar Youth Exchange and Study Program. Through the program, she was placed with the Kahn family of Salem, Oregon. There she attended Sprague High School and had the opportunity to experience American culture firsthand, while still having her host family for support and guidance.
"Being with a family has made (being away from home) easier," Maria noted, explaining that her country places a strong emphasis on family.
Though she misses her own family, she also has greatly appreciated the chance to see how different American culture is from common portrayals.
During her stay, Maria's host family and the students at her new school have been learning about her culture. Coming from a predominantly Muslim country, her heritage differs a great deal from much of the U.S. Bangladesh, being in southeast Asia, also contrasts sharply with many Americans' conceptions of Muslim culture.
Nevertheless, efforts to promote understanding between these different cultures have seen growing success. The Institute of International Education notes that of the 10 countries that send the most exchange students to the U.S., two of them - Saudi Arabia and Turkey - are predominantly Muslim. There are also a significant number of work and travel participants that visit the U.S. from these countries.
Ani Kington
Originally from Columbus, Ohio, Ani is a fan of exploring new places through photography and the local cuisine. After earning her BFA in photography from NYU and gaining communications experience at International Planned Parenthood Federation, she joined InterExchange in 2012, and worked as the Marketing Producer until 2016.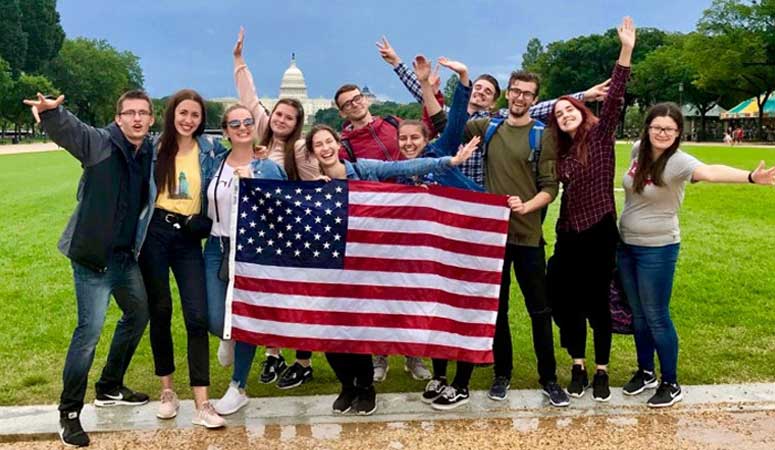 Experience American culture while working and exploring the USA
Sign Up
Learn More
Call Us