---
'Guest Post: Participant''s Poem About His Experience'
---
2 minutes
Guest post: Bobir M. from Uzbekistan wrote the following poem about his experience this summer on the Work & Travel USA program.
SPECIAL FOR BAYLEY'S SEAFOOD RESTAURANT
I work in Bayley's Seafood,
Where employees are always in good mood
It is not an exaggeration,
But They are the BEST in this neighborhood.
Let me briefly mention the staff
Whose schedule is not quite tough,
If You want to be a part of us
Sense of humor and common sense are enough
The great boss of the team is Stan,
Whom it is really difficult to understand
He usually visits us when it is slow
Thus, we have to constantly pretend.
The next person after him is Brad
Whose name I used to spell like bread
You know what he does each Friday noon?
Makes schedule for the week ahead.
The Mum of guys is Lisa Davis,
With whom I like to conversate with
In fact, several words are not enough
To describe what a brilliant woman she is.
The most experienced chef is Dave,
The man who is always strong and brave
He has an "old friend" called Jimmy
Whose haddock chowders are really yummy.

There is a foreign student called Sheldone
Who lives with his friend Tyrell,
They never make burgers well-done
But adore the "happy" song of Pharrel.
The guy who always sings is Eric,
He thinks his voice has some magic
He enjoys playing with Terry,
But with Ben they act like Tom and Jerry.
Scott is an old friend of Ben
Both of them are leaving, I do not know when,
Brad will probably miss them later,
But I am okay, cause I will start frying then.
The future of restaurant is Will,
Courtney says he makes the best meals
Prospects are Samuel and Anthony,
Former likes Ronaldo, latter Balotelli.
Pretty girl is Madison Allie,
Whose best friend is Kylie
Our nursers are Cassidy Regan,
And "Master of Seafood" Megan.
YOU ALL ARE MAKING STORY OF MY LIFE,
THAT I WILL RETELL TO MY KIDS AND WIFE,
DO NOT BE MAD WHEN I MAKE A JOKE,
I WILL BE SERIOUS ONE DAY. I HOPE...

Ani Kington
Originally from Columbus, Ohio, Ani is a fan of exploring new places through photography and the local cuisine. After earning her BFA in photography from NYU and gaining communications experience at International Planned Parenthood Federation, she joined InterExchange in 2012, and worked as the Marketing Producer until 2016.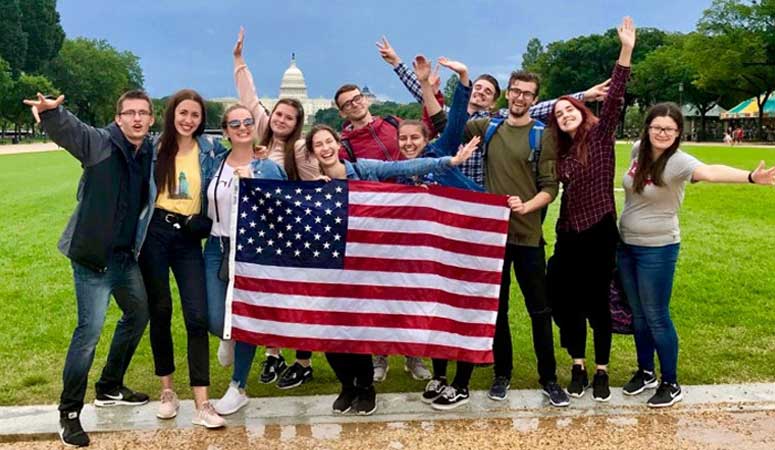 Experience American culture while working and exploring the USA
Sign Up
Learn More
Call Us