---
What to Expect When Working in the Restaurant Industry in the U.S.
---
2 minutes
, working in the restaurant industry is a fun opportunity to experience this important part of American life firsthand. However, the cultural aspect of dining in the U.S. may be different from what international students are used to. Here are a few things that work and travel program participants can expect:
An Emphasis on Service
Americans are renowned for their high expectations when it comes to customer service. The success or failure of a restaurant can be heavily affected by the quality of its service as well as the food it serves. As such, many eateries emphasize the importance of providing guests with a superior dining experience through excellent service.
People in the U.S. can be quite demanding when it comes to eating out. Oftentimes, they will expect to be served promptly, so students working in restaurants should be comfortable with keeping track of several tables of guests simultaneously. Diners will also want to be treated with courtesy and respect, so it is important for work and travel program participants to have a warm and friendly demeanor if they are serving customers.
Multitasking in Busy Environments
If students are responsible for taking orders while working in U.S. restaurants, they may find that multitasking skills are particularly useful.
American restaurant menus, whether in fast-food or sit-down settings, can be extensive, and some diners will have large and complex orders. It is common for patrons to substitute menu items, whether out of personal preference or special dietary requirements, so people working in restaurants should be attentive and detail-oriented. This is especially important when dealing with dishes that contain ingredients that diners are allergic to.
Tipping is customary in U.S. restaurants. In fact, according to Michael Lynn at the Cornell University School of Hotel Administration, tips make up a significant portion of servers' take-home pay. Some diners will tip generously for exceptional service, so students should pay attention to diners' needs and make an effort to provide them with the best possible service. It is also common for restaurant staff to inquire whether customers are satisfied with their meal once it has been served. This interaction provides patrons with the opportunity to request additional items or raise any concerns they have about the quality of the food. Tips between 15 and 20 percent of the bill's total are standard at most establishments.
Dining out is a common part of daily life, and visitors working in a U.S. restaurant can be assured of an exciting and challenging experience. Seeing how Americans interact during meal times also provides insights into U.S. culture that may not be seen in other environments.
Ani Kington
Originally from Columbus, Ohio, Ani is a fan of exploring new places through photography and the local cuisine. After earning her BFA in photography from NYU and gaining communications experience at International Planned Parenthood Federation, she joined InterExchange in 2012, and worked as the Marketing Producer until 2016.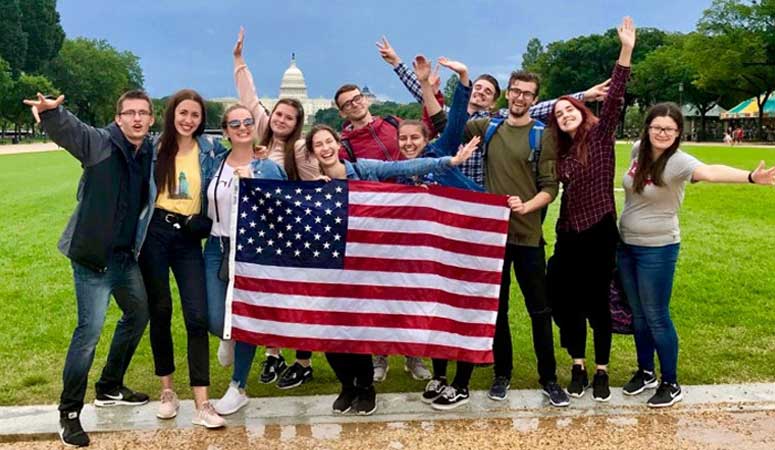 Experience American culture while working and exploring the USA
Sign Up
Learn More
Call Us