---
Working at a U.S. Ski Resort
---
2 minutes
may have the unique opportunity to work at a U.S. ski resort. Seasonal sporting activities such as skiing and snowboarding are very popular in North America, and working at one of these resorts is an excellent way for international visitors to learn about regional and seasonal winter tourism firsthand.
Diverse Daily Duties
Depending on the kind of ski resort at which international visitors find themselves working , their duties may vary considerably. They could be helping to operate chair lifts, but could also be providing administrative assistance, holding office positions in the resort, helping with promotional campaigns and marketing efforts, working in retail outlets such as gift shops or even waiting tables in chalet restaurants.
A Fresh Perspective
Of course, one of the best things about working at a ski resort in the U.S. is the opportunity to enjoy the great outdoors. The U.S. has many world-class ski resorts in states renowned for their scenery and natural beauty, such as Colorado, Massachusetts, New Hampshire, Utah and Vermont. In addition to a wide variety of natural environments, this diversity also offers work and travel program participants a great deal of choice when it comes to searching for seasonal employment opportunities.
International visitors working at ski resorts across the U.S. can enjoy spectacular mountain views, fresh air and an atmosphere of excitement. Plus, working at this type of facility may provide program participants with valuable knowledge about how a predominantly seasonal operation like a ski resort functions during peak season and prepares for periods of slower business activity.
New Faces
Another valuable aspect of working at a U.S. ski resort is the opportunity to meet new people from around the world. Tens of thousands of people from across the globe come to the U.S. to ski, and busy resorts are an excellent place for international visitors to meet new and interesting people from different cultures and backgrounds, and possibly even a few from their home countries as well.
Ani Kington
Originally from Columbus, Ohio, Ani is a fan of exploring new places through photography and the local cuisine. After earning her BFA in photography from NYU and gaining communications experience at International Planned Parenthood Federation, she joined InterExchange in 2012, and worked as the Marketing Producer until 2016.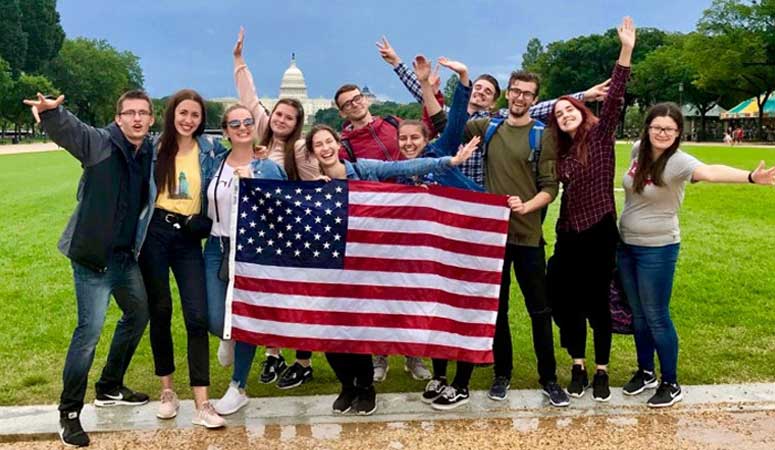 Experience American culture while working and exploring the USA
Sign Up
Learn More
Call Us