---
Traditional Fall Activities
---
2 minutes
 celebrate the changing of the season:
Bobbing for Apples
Often associated with Halloween, apple bobbing is a popular activity in the fall. The game consists of large barrels filled with water and floating apples, which players scramble to pick up with just their teeth. The practice is believed to have Celtic and Roman roots, honoring the Roman goddess of fruits and trees, Pomona. Bobbing for apples was also once connected to predicting future love.
Corn Mazes
In the fall many farms also attract eager adventurists to find their way through large and elaborate corn mazes. Navigators must walk through stalks of corn several feet high, searching for a way out of the often elaborate and complicated designs. One of the world's largest corn mazes is in Dixon, California at Cool Patch Pumpkins. The maze earned the distinction of the largest in the world by Guinness World Book of Records in 2007 and now spans 53 acres.
Leaf Peeping
The beautiful changing colors of trees throughout the U.S. is a sure sign of fall. Many people plan whole trips around seeing colorful trees! Different regions have different peak times for admiring changing leaves, so make sure to plan ahead. Check out the peak fall foliage map to plan a leaf peeping trip!
Pumpkin Patches
Besides the falling leaves, the greatest indicator of the season may be the emergence of pumpkins. The large orange fruit is often used in pies and other baked goods as well as carved and decorated. Individuals can pick their own pumpkins at pumpkin patches and fields in farms and ranches. Many of these sites also offer hayrides. Filled with straw or hay, large wagons carry passengers for a casual and relaxing ride around the farm.
Looking to take part in some fall pastimes? Use these resources to find activities near you:
Ani Kington
Originally from Columbus, Ohio, Ani is a fan of exploring new places through photography and the local cuisine. After earning her BFA in photography from NYU and gaining communications experience at International Planned Parenthood Federation, she joined InterExchange in 2012, and worked as the Marketing Producer until 2016.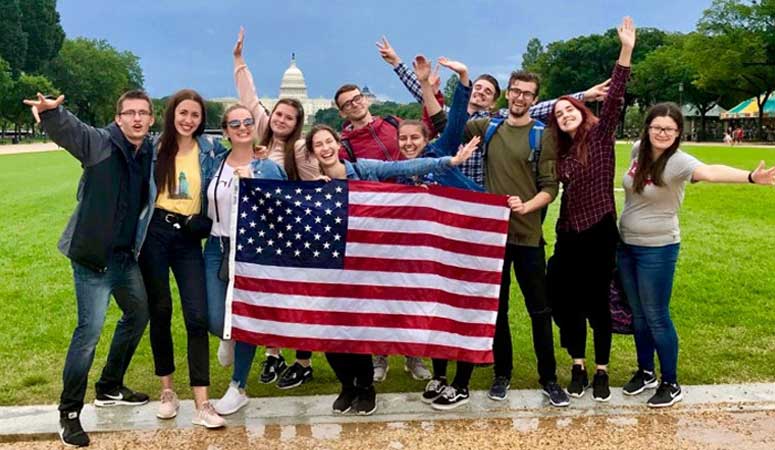 Experience American culture while working and exploring the USA
Sign Up
Learn More
Call Us