---
Thanksgiving Traditions
---
2 minutes
Americans celebrate Thanksgiving on the fourth Thursday of November. While the holiday has religious and controversial roots, today, Thanksgiving is celebrated as a secular holiday. Families and friends come together for a traditional meal that usually includes some, if not all of the following dishes: turkey, cranberry sauce, stuffing, mashed potatoes, candied yams, and pumpkin pie. Each family has its own Thanksgiving traditions, often representative of their cultural and/or ethnic background. Americans are proud of the fact that we can all celebrate the same holiday, albeit in different ways!
Thanksgiving, if you couldn't guess from the name, is a time of giving thanks! The holiday is considered a time to practice being grateful. Many families go around the dinner table and say what they are thankful for before eating the big meal. What are you thankful for this year? New friends, family, your health, a chance to travel to a new country?
Even if you are not in the U.S. for Thanksgiving Day, there are ways to celebrate the holiday any time of the year! Gather some friends together and cook traditional Thanksgiving dishes together, or you could each prepare one dish for a potluck-style Thanksgiving.
If you are in the U.S. on Thanksgiving, or if you're curious about other customs around this holiday, here are a few traditions that don't revolve around eating:
Macy's Thanksgiving Day Parade in New York City
This parade cannot be missed! It is the oldest parade in the U.S., dating back to 1924. You may have seen it on TV, but why not get a cup of coffee and go early Thanksgiving morning to see the dancers, musicians, and gigantic balloons!
Are you Ready for Some Football?
American football on Thanksgiving Day has been a tradition since 1920. You can enjoy not one, not two, but three American football games, around the country.
Plymouth, Massachusetts
Why not see a historical reenactment of the "First Thanksgiving"? You'l find handmade souvenirs to bring home to your family and friends!
Turkey Trot
Turkey Trots are a fun nickname for races that take place on Thanksgiving Day. Many people in the U.S. love running these races as a way to not feel guilty about eating so much for Thanksgiving Dinner!
Black Friday Shopping
The Friday after Thanksgiving is considered to be one of the busiest shopping days of the year, as most retailers provide some sort of a sale or special deal. Why not visit the Mall of America – the largest shopping mall in America in Bloomington, Minnestota?
Ani Kington
Originally from Columbus, Ohio, Ani is a fan of exploring new places through photography and the local cuisine. After earning her BFA in photography from NYU and gaining communications experience at International Planned Parenthood Federation, she joined InterExchange in 2012, and worked as the Marketing Producer until 2016.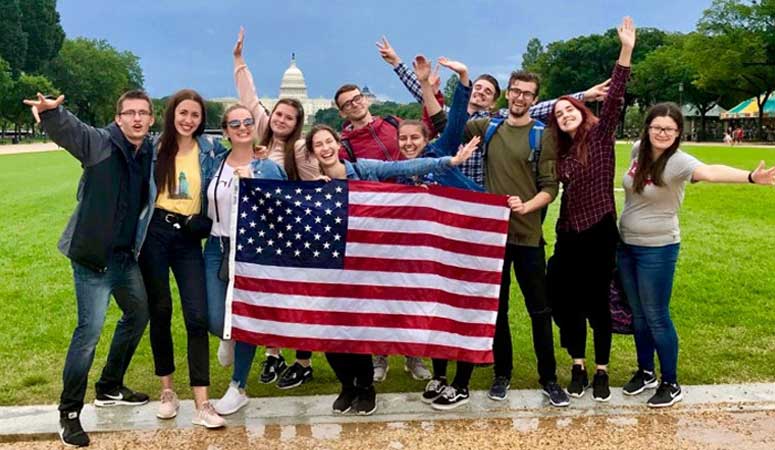 Experience American culture while working and exploring the USA
Sign Up
Learn More
Call Us