---
Winter Participants Learn About Fire Safety in NYC
---
1 minute
to learn about the history of the FDNY and to participate in an informative fire safety training hosted by retired FDNY firefighter volunteers. The museum boasts one of the nation's largest collections of fire-related art, gear and apparatus dating back to the late 18th century.
InterExchange participants kicked off their tour by watching a fire safety training video and listening to the interesting history of the New York City Fire Department's evolution from a simple bucket brigade system to the sophisticated machinery we see today. The students were awestruck over exhibits of full-size fire trucks and water pump devices from over a century ago.
The group then took part in a mock fire evacuation from a makeshift apartment room that was filled with simulated smoke. Participants were taught to kneel on the ground for better air supply and crawl to safety by following the wall with their hands, only standing once they were past the smoke. Students also received basic fire prevention tips for living and cooking in dorms and apartments.
In a more somber moment, participants experienced the September 11th exhibit containing photos, recovered artifacts and a memorial to fallen firefighters.
InterExchange participants had a great time speaking with the volunteers and exploring a piece of New York City's past, while learning invaluable fire safety lessons for today.
Ani Kington
Originally from Columbus, Ohio, Ani is a fan of exploring new places through photography and the local cuisine. After earning her BFA in photography from NYU and gaining communications experience at International Planned Parenthood Federation, she joined InterExchange in 2012, and worked as the Marketing Producer until 2016.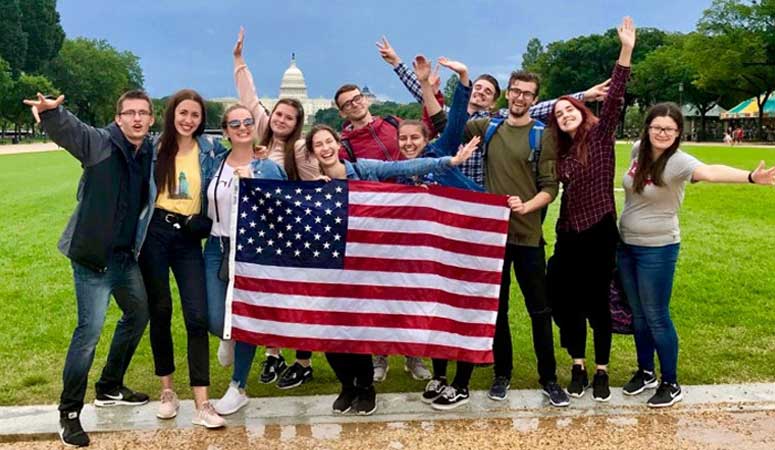 Experience American culture while working and exploring the USA
Sign Up
Learn More
Call Us