---
Participant Orientations in San Francisco and City Tours!
---
1 minute
Throughout December, students from Argentina, Peru, Paraguay, Chile and Brazil arrived to scenic San Francisco for InterExchange orientation sessions. Participants met with InterExchange staff to kick off their winter Work & Travel USA programs in the city by the bay.
After arriving in San Francisco, the South American participants stayed for two nights at the Green Tortoise Hostel in San Francisco's famous North Beach neighborhood—the intersection of Little Italy, Chinatown and many sites, including Coit Tower and Fisherman's Wharf.
The following day, the group met with InterExchange staff for an informative orientation session where they learned about life in the USA, culture shock, travel and their Work & Travel USA job locations, along with other topics pertinent to their programs.
On their way to the Social Security office, InterExchange staff introduced participants to some of the historical sites in the city: the famous Sentinel Building, the TransAmerica Pyramid, San Francisco's large Chinatown, and City Lights Bookstore, the Beat poet hangout.
After applying for their Social Security numbers, participants started plotting their travel plans to the job for the next day, and had the opportunity to spend an evening sightseeing in San Francisco before heading out for their winter program adventures.
Ani Kington
Originally from Columbus, Ohio, Ani is a fan of exploring new places through photography and the local cuisine. After earning her BFA in photography from NYU and gaining communications experience at International Planned Parenthood Federation, she joined InterExchange in 2012, and worked as the Marketing Producer until 2016.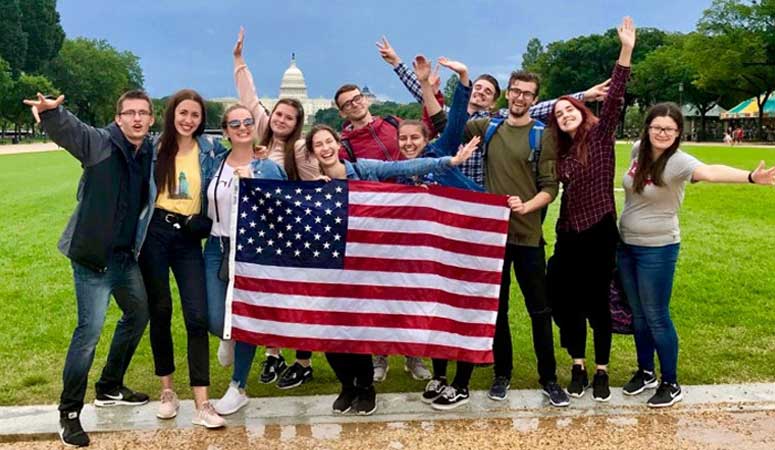 Experience American culture while working and exploring the USA
Sign Up
Learn More
Call Us