---
'Join our NYC Virtual Recruitment Tour and Finish Your Summer Hiring! '
---
1 minute
For host employers who aren't able to attend our international tours, we offer the next best thing with our Virtual Recruitment Tours from our New York City offices!
For host employers who want to get to know our pre-screened and qualified candidates while completing seasonal hiring in a single day, we invite you to the InterExchange offices in NYC to virtually "meet" potential J-1 staff. You can interview between 20 and 30 students in a single day over Skype and start planning for peak seasons.
We'll cover travel expenses for each employer hosting 10 or more students through the Work & Travel USA program. Tour dates are available from January to March for summer recruitment or August through October if you're recruiting for your peak winter season.
Enjoy the famous landmarks and sights of New York City, catch a Broadway show, have dinner with InterExchange staff and enjoy your own free time, too!
If you don't qualify for the Virtual or International Recruitment Tours, the Work & Travel USA staff are prepared to help you with your international staffing needs, and we'll be here to support your throughout the program! All of our InterExchange employees have experience in cultural exchange and love helping both our participants and our host employers make the most of our cultural exchange program. For more information, please contact us at 917.305.5410 or tours@interexchange.org.
Ani Kington
Originally from Columbus, Ohio, Ani is a fan of exploring new places through photography and the local cuisine. After earning her BFA in photography from NYU and gaining communications experience at International Planned Parenthood Federation, she joined InterExchange in 2012, and worked as the Marketing Producer until 2016.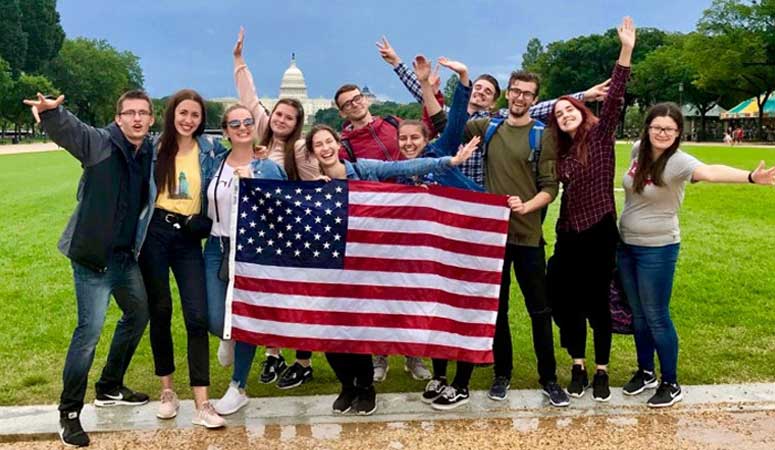 Experience American culture while working and exploring the USA
Sign Up
Learn More
Call Us