---
Work & Travel USA Participants Visit Colorado State Capitol and U.S. Mint
---
2 minutes
Last month I got to travel to the Mile High City—Denver, Colorado—to meet more than 30 enthusiastic exchange students from Argentina, Brazil and Paraguay. It was the third time I visited Colorado to host a series of InterExchange arrival orientations and cultural events for our Work & Travel USA program participants.
Since our Winter orientation meetings take place during the holiday season, I like to start off our mornings with traditional U.S. holiday music. These festive tunes help me set a great mood and a nice atmosphere for our busy days ahead.
Busy morning at #Denver orientations today! Social Security Office next! #iexculture pic.twitter.com/6aOiS1Ksgp

— InterExchange (@InterExchange) December 4, 2015
Each InterExchange orientation meeting consists of three main components: a discussion of program regulations, a visit to a local Social Security Office and a cultural event. When I work on planning a cultural event for the welcome orientations, I always make sure that our exchange students get to learn about some of the essential components of the U.S. culture—history, government, economy, arts, volunteerism—just to name a few. It's also important for the cultural activity to engage students' curiosity and encourage them to continue learning throughout their program.
Most of the students who attend our orientations in Denver spend their winter in Colorado, so it has become our annual tradition to take one of our arrival groups on a guided tour of the Colorado State Capitol.
Participants in front of the Colorado State Capitol. Photo courtesy of InterExchange.
Participants were curious to learn about the Rush to the Rockies, the role of women and minority groups in the history of Colorado, the meaning of state symbols and local legislature. The students shared with me that government institutions in their home countries are not as easily accessible to the general public as they are in the United States. This event encouraged participants to compare local governments and legislation processes in the U.S. and their home countries, and to explore free resources available to them in their local U.S. communities. The highlight of our day was the breathtaking view from the top of the State Capitol dome.
Participants savor the view from atop the Colorado State Capitol dome. Photo courtesy of InterExchange.
Our second group got to visit the U.S. Mint. The students were excited to observe the production of U.S. coins and learn their nicknames: pennies, nickels, dimes and quarters. After the event everyone sounded "like an American" when they were counting their U.S. change!
Tanya Burovtseva
An international exchange alumna originally from Ukraine, Tanya started her career at InterExchange in 2011. Tanya is passionate about travel and cultural exchange and enjoys meeting J-1 exchange participants at InterExchange events.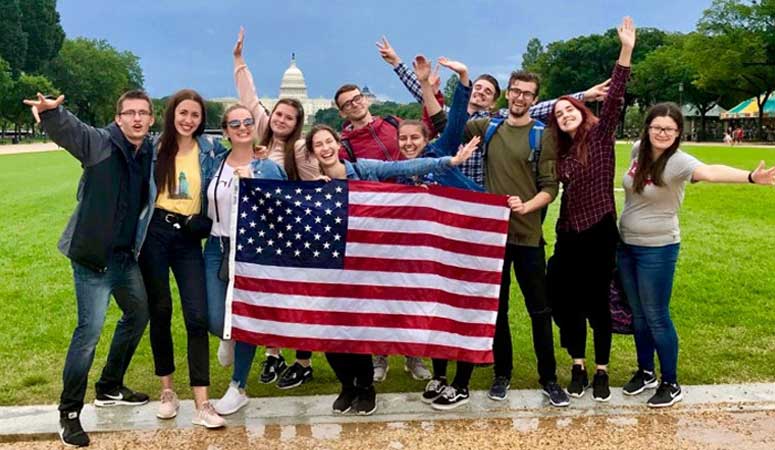 Experience American culture while working and exploring the USA
Sign Up
Learn More
Call Us