---
U.S. Ambassador to Ireland Promotes J-1 Work Travel Program
---
1 minute
With new changes to the J-1 Summer Work Travel program taking effect this year, InterExchange has been spreading the word to let Irish students know they'll be required to have a summer job vetted and approved before they travel to the U.S.
Kevin F. O'Malley, U.S. Ambassador to Ireland, recently penned an op-ed in the Irish Independent, celebrating the rich history of the program and explaining the new change:
Most recently, the two largest independent, non-government J-1 sponsors in the United States - Council on International Education Exchange (CIEE) and InterExchange - announced a new policy that will require all of their prospective J-1 participants worldwide, including students from Ireland, the United Kingdom, and other visa waiver countries to have a pre-arranged job vetted and approved prior to the government being able to issue a J-1 visa and travel to the United States in 2016.

I want to be clear that even as some aspects of the J-1 programme evolve and change, the cultural exchange and entrepreneurial spirit at the heart of the programme remain exactly the same.

The J-1 experience will continue to be a life-changing one that connects the next generation of Irish and Americans and strengthens the bonds of friendship between our two countries.
The Ambassador was also interviewed on RTE radios's Today with Sean O'Rourke, with the J-1 Summer Work Travel program as the primary focus. The popular morning radio program has more than 300,000 daily listeners.
In addition, the U.S. Embassy in Dublin released an informative video message from Ambassador O'Malley about the J-1 SWT program changes for 2016:
InterExchange is grateful for the Ambassador's support and efforts around changes for Irish participants on our Work & Travel USA program. Host employers and Irish students can read more about the changes, and are encouraged to start the application process early.
Ani Kington
Originally from Columbus, Ohio, Ani is a fan of exploring new places through photography and the local cuisine. After earning her BFA in photography from NYU and gaining communications experience at International Planned Parenthood Federation, she joined InterExchange in 2012, and worked as the Marketing Producer until 2016.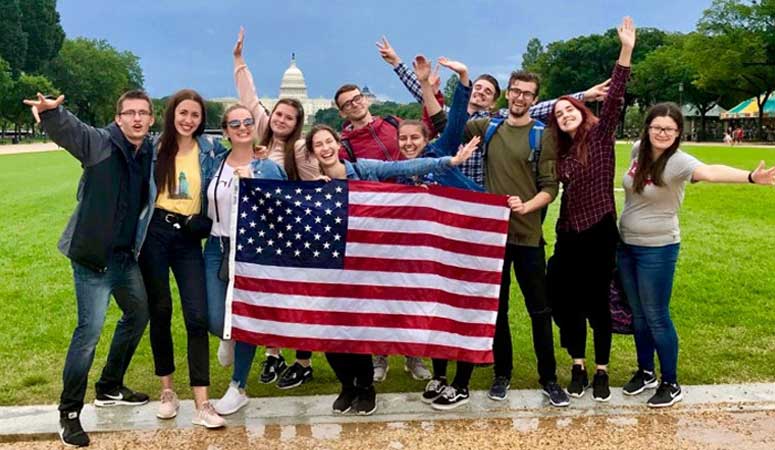 Experience American culture while working and exploring the USA
Sign Up
Learn More
Call Us