---
InterExchange & SAYIT Host J-1 Job Fair in Dublin
---
2 minutes
Image courtesy of Bjørn Christian Tørrissen
Twelve U.S. businesses to attend & hire Irish students for seasonal positions
InterExchange is excited to announce that we're hosting a J-1 job fair in Dublin, Ireland in conjunction with our longtime Irish partner, SAYIT Travel. The Dublin job fair will help interested Irish students make connections with U.S. host employers offering exciting summer job opportunities throughout the United States. With new changes to the J-1 Summer Work Travel program that require students to have a summer job vetted and approved before they travel to the U.S., the job fair will allow hundreds of students to interview and obtain jobs with U.S. businesses!
The job fair will take place at Hotel Gresham in Dublin on January 30-31, 2016. U.S. businesses that will attend include Elitch Gardens in Denver, CO, Hooper's Crab House in Ocean City, MD, Blazing Saddles Bike Rentals in San Francisco and NYC, Big Bus in Chicago, IL and Washington, DC, Bubba Gump Shrimp Co. in Chicago, IL, Red and White Fleet San Francisco Cruises in San Francisco, CA, and Gentle Giant Moving Company, Photogenic, Inc., and Pret A Manger, each with various locations across the U.S. Irish students will have the opportunity to meet and interview with these prospective host employers and many will leave the fair with confirmed job offers.
Representatives from the U.S. Embassy, InterExchange, and SAYIT Travel will also be available to talk with students and answer questions.
In a recent op-ed in the Irish Independent, Kevin F. O'Malley, U.S. Ambassador to Ireland, wrote: "I want to be clear that even as some aspects of the J-1 programme evolve and change, the cultural exchange and entrepreneurial spirit at the heart of the programme remain exactly the same.
The J-1 experience will continue to be a life-changing one that connects the next generation of Irish and Americans and strengthens the bonds of friendship between our two countries."
InterExchange is grateful for the Ambassador's support and efforts around changes for Irish participants on the Summer Work Travel program. Students interested in applying for jobs should contact SAYIT.
If you're interested in following the event, please do so on social media using hashtags #J1JobFair, #IEXJobFair, and #J1Visa!
Ani Kington
Originally from Columbus, Ohio, Ani is a fan of exploring new places through photography and the local cuisine. After earning her BFA in photography from NYU and gaining communications experience at International Planned Parenthood Federation, she joined InterExchange in 2012, and worked as the Marketing Producer until 2016.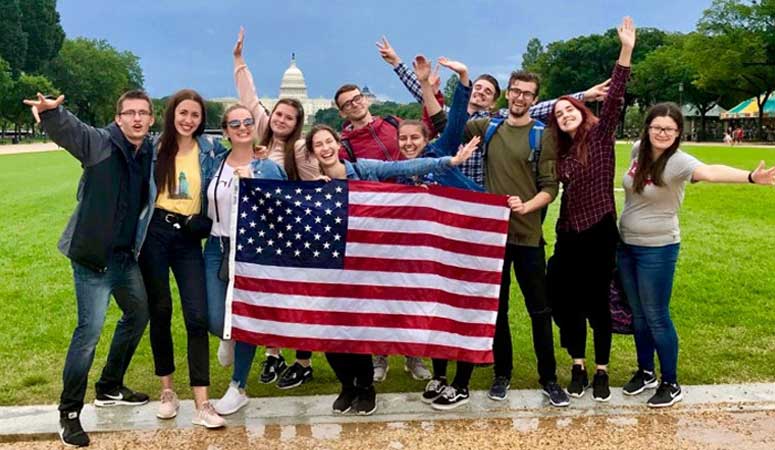 Experience American culture while working and exploring the USA
Sign Up
Learn More
Call Us